03/16/12 203 W, 1 I - + 4 - 1 This Morning's Fire on Arckelton Drive
Mr. Blogger is under the weather. Thus only listened to this incident. Wish I'd instead been asleep, but my mid-night had been doubled-down with insomnia. Memo to self: Don't take non-drowsy expectorants anywhere near bedtime. Still assessing other side-effects, such as talking in the third person. As for this morning's fire, here's a bit of detail.
Duplex at 4016 Arckelton Drive. Engine 14 arrived with heavy fire visible in the rear of the structures. Crews made entry, and were working to reach the seat of the fire in an attic space. Sagging roof conditions were observed outside. Crews were removed from inside the structure, and Ladder 2 began flowing. One additional engine was requested at that time. A portable monitor was also deployed, believe to the rear of the structure.
Dispatched at 2:05 a.m. Controlled at 2:56 a.m. Both units rendered uninhabitable. No injuries. Cause determined as improperly discarded smoking material, cigarette on back deck. (Idea for national cigarette safety campaign: Watch Your Butts. Wonder what those annual stats look like?) Units on scene: E14, E16, E17, E9, E6 (special), L3, L2, R3, B3, A1, C10, C20, EMS 2, EMS 6, EMS 11, D1, T1.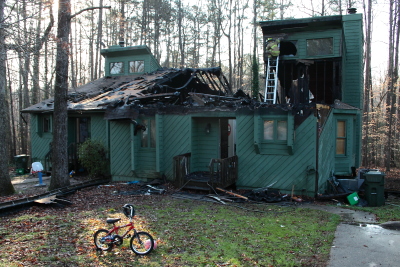 ---