03/20/12 494 W, 2 I - + 8 - 1 UPDATED: Raleigh Firefighters Rescue Elderly Man From Burning House
March 20
As this News & Observer story reports, Raleigh Fire Department Capt. Rob Mitchell (E21C) and Lt. Brandon Hopkins (R1C) talked this morning about Sunday night's rescue of an elderly man at a house fire on Kincaid Drive. They described the sequence of events, including the initial entry by Capt. Michell and Firefighter Austin Foster from Engine 21. With their charged line and a thermal imaging camera, and after initially hitting the flames, they started searching the right side of house. Flames were rolling down the hallway where the resident was believed to be. (Temperature from the floor to their crouched waist was at least 400 degrees. Thus they're on breathing air.)
Lt. Hopkins and Firefighter Tim Ballard from Rescue 1 entered as members of a second search time. They checked a bedroom and found the resident on the floor, with part of his upper body laying against a bed. They dropped their tools, grabbed the resident by his arms and legs, and carried him outside. He wasn't breathing, and resuscitation efforts were started. He was breathing on his own by the time he was transported to the hospital. Read more of their account. See also aftermath photos from Legeros.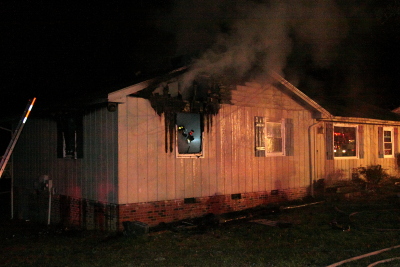 March 19
More information was released today about last night's house fire at 4125 Kincaid Drive, where Raleigh firefighters rescued an elderly man from his burning home. As this WRAL story reports, the 75 year-old resident called 911 at 8:49 p.m. He was trapped in his house, and remained on the phone to describe his exact location. While the fire department was en route, an arriving police officer as well as another man the trapped man's son, who also lived there, attempt entry/re-entry. They couldn't get past the flames.
Engine 21 arrived and found heavy smoke and flames from the front of the single-story structure. They had been notified of the trapped occupant and his reported location. Engine 21 was joined by Rescue 1 inside and the two teams searched the house. The resident was found in his bedroom and in respiratory arrest. He was resuscitated by fire and EMS personnel, and was transported to WakeMed and later airlifted to the burn center in Chapel Hill.
The police officer and man resident who attempted to enter/re-enter the home each suffered smoke inhalation. They were treated and released at WakeMed. Three dogs were also rescued. The fire was controlled in 20 minutes. The cause remains under investigation. Units on scene included E21, E21, E11, E19, L2, R1, B2, B1, A1, C10, C20, C40, EMS 5, EMS 2, EMS 63, D1, M94, T1. Media: WRAL, WTVD, News & Observer.
Update #1: This second News & Observer story provides more details. The rescued man lived with his son, who tried to reenter the structure along with the officer. The father remains in critical condition at the burn center in Chapel Hill.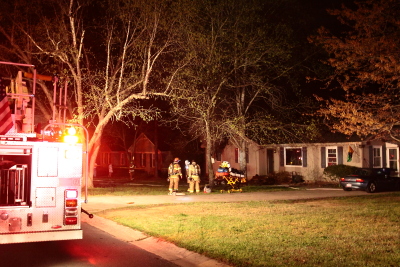 ---
Great job!
Mike - 03/19/12 - 22:24
Well done RFD. That's what it is all about!!
Engineman 56 - 03/20/12 - 00:44
Well done guys. That is what makes all the bad days worthwile.
Scooter - 03/21/12 - 08:43