03/28/12 94 W, 1 I - + 4 - 4 Caption This Photo / Big Drum
Wake & District Public Safety Pipes and Drums participated in Sunday's ceremony at the Falls fire station, celebrating the merger (e.g. operational consolidation) of the Falls Fire Department and the Wake Forest Fire Department.
See earlier posting
about same.
See event photos
from Legeros. The pictures were made with a pair of Canon DSLR cameras, one short lens and one long. External flash with diffuser, sometimes bounced, sometimes direct. Crazy lighting conditions at times. Slowly, steadily getting better at indoor photos.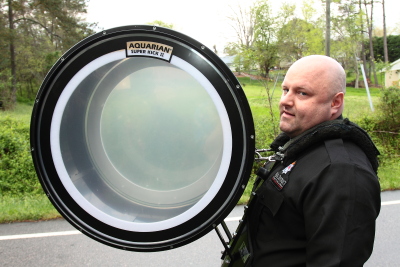 ---
When did Uncle Fester learn to play the drums?

This is John Lovett. He is quite a drummer and has played with the Top Secret drum corp. Youtube them. Pretty cool
Mike - 03/28/12 - 13:57
What kind of ISO can that lens give for night photos???
2redline - 03/28/12 - 23:25
"...wonder if I get a hawaiian print shirt to match my kilt…"
Joe Brady (Email) (Web Site) - 03/30/12 - 14:17