05/26/12 306 W, 2 I - + 4 - 5 Architecture Students Design Fire Museums For Raleigh
On May 4, 2012, a fire museum design project review was held in the Rotunda at Brooks Hall at North Carolina State University. A jury reviewed the work of students in an six-credit architectural design studio class, which was comprised of eight graduate and three fourth-year undergrad architecture students. This studio-type course is required of every architecture student for every semester they are in the program, noted their instructor Roger Clark. Unlike a lecture or seminar course, the studio class requires students to apply information from other courses while designing a particular project located on a particular site. (Any readers who've been through this program, you know who you are, feel free to add perspectives...)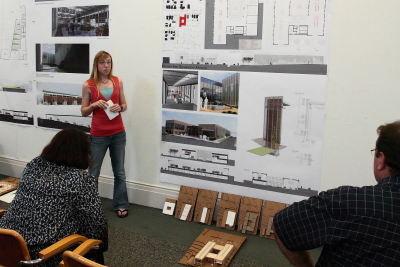 The students were assigned a hypothetical project of designing a new Raleigh Fire Department Museum on one of three sites: (a.) urban street, (b.) prominent corner on the fringe of downtown, and (c.) prominent road on a suburban site. The museum was to house the department's current antique apparatus, as well as any they might obtain in the future. It was also to house historical images and other two-dimensional information and three-dimensional objects related to the history of firefighting and the Raleigh Fire Department.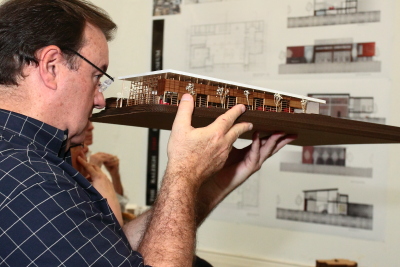 There was to be a meeting/community room, a children's area, a library for log books and materials, and a memorial to honor fallen members or all past members. The facility was to serve as a history museum, as well as an education center and a place to honor firefighters. Raleigh Fire Museum members participated at the beginning of the semester, providing tours, presentations, and other information to the students.
See photographs by Legeros. And read a subsequent blog posting by designer (and new graduate) Sara Horn.
---
Did I miss it or is there more main stream media/city-wide attention to this effort? Solid designs NCSU...!
A.C. Rich - 05/26/12 - 12:10
The school project started back in November, I believe. But the museum is definitely getting more attention these days and weeks as we approach our June 16 centennial celebration.
Legeros - 05/26/12 - 12:21