05/27/12 195 W, 1 I - + 7 - 4 Old Snow Hill Fire Station
Took this picture early this afternoon, returning from a morning jaunt to Kinston. This is a former fire station in Snow Camp Hill, in Greene County. It's located a couple blocks from the downtown. Looks like a fire station built in the sixties or seventies, perhaps? Maybe in two stages or two eras, flat roof at start, pitched roof when remodeled? The bay sizes are uniform, so it doesn't appear to be a station that started small and was expanded. The number of bays suggest both municipal and rural apparatus. Maybe separate departments?
Based on the age and historic designation of the downtown, Snow Hill almost certainly had a fire department earlier in the century. Next question, where was the prior or perhaps original fire station? Best guess is a early-century municipal building or town hall, maybe with a single bay for a fire engine. (Though there looked to be a 1930s era municipal building on First Street, with a WPA plaque. Didn't see any bay or garage space. Perhaps by the 1930s, a dedicated fire station was operating?) Readers perhaps can answer.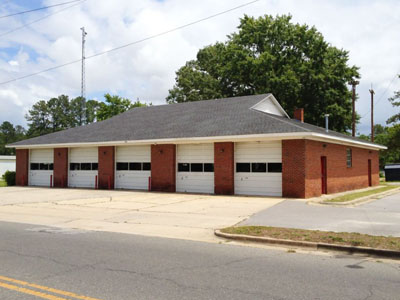 ---
I believe you mean Snow Hill,Mike. I used to ride EMS there and our bay was the far right bay.
John Maynard (Email) - 05/27/12 - 18:06
The 2 right bays were the original station. The left three bays were added. Paul Miller, Executive Director of the NC Sate Firemans Association, was the Asst. Chief here for years. He may be able to shed more light on the history if someone can make contact with him. Their new station is now in an industrial park off of Hwy 58 just south of the intersection of US 258. It is between the Trade Mart and Beaman's restaraunt.
John Maynard (Email) - 05/27/12 - 18:14
Snow Hill Fire? Never heard of Snow Camp.
2redline (Email) - 05/27/12 - 18:18
Never heard of Snow Camp either! Thanks for the corrections.
Legeros - 05/27/12 - 18:20
Mike, actually there is a Snow Camp, NC. It is an unincorporated community in southern Alamance County and they have a fire department. http://www.snowcampfire.com/ Here is the link to their website. So technically you were not wrong, just the wrong county.
John Maynard (Email) - 05/27/12 - 20:16