05/27/12 234 W, 3 I - + 5 - 6 Scenes from the Kinston Regional Jetport
As photographed this morning at the Kinston Regional Jetport. Top is a former fire station building, part a former maintenance building. Located beside the terminal building and dates to at least twenty years ago. Then the fire station was moved "up the ramp" to another combination building (since demolished), located where the Forest Service currently sites. (They have a big base there.) At the time the fire station was moved, the fire siren was also moved. That's the second photo, showing a utility building located just east of the control tower, and a couple hundred feet from terminal.
Third photo is the airport's reserve crash truck undergoing service in the maintenance garage. Those bays are part of a combination fire station and maintenance building located on John Mewborne Road, just "up the ramp" from the Forest Service base. The fire station has two bays in the building, facing air-side. Their primary apparatus is an E-One Titan triple-agent crash truck. Firefighters are maintenance personnel who do double-duty.
See more photos, including a couple close-ups of the rig below. That's a late-eighties/early-nineties (?) Walter that's been refurbed in more recent years, probably by CRES. Wonder how many other airports in our state have cross-staffed firefighters?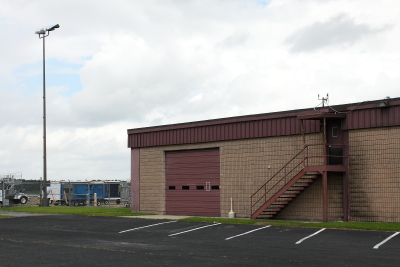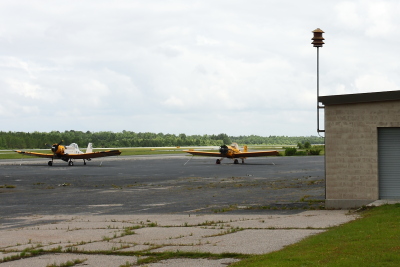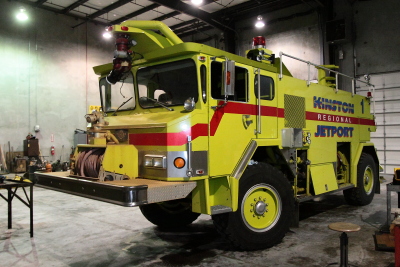 ---
Fire stations of last 20 years:

- Combination maintenance building and fire station, with two fire station bays. Located on John Mewborne Road. Recently built.

- Combination building on or around current location of Forest Service base. Demolished.

- Combination building beside terminal building. Still standing.

Fire siren located on utility building between control tower and Forest Service base. Moved there when fire station moved from third most recent location to second most recent location

Apparatus of last 20 years:

- 2008 E-One P501 4×4, 1500 GPM, 1500/205/550, water/foam/dry chemical. Delivered in recent years. Replaced Walter crash truck and dry chemical truck.

- Walter crash truck, water/foam. Replaced prior crash truck. Later refurbished. Present reserve.

- Dry-chemical truck.

- Crash truck.
Legeros - 05/27/12 - 18:27
The NC Division of Emergency Management's Eastern Branch Office was also located in the now-demolished building next to the Forest Service air base. The SHP helo pilots also had an office in that building until they moved to a new hanger and office. The NCEM EBO moved from there over to to a new building, adjacent to the GTP Training and Education Center on NC 58N; this is about a mile from the north end of the runway. The EBO also activates as a regional coordination center for 33 counties when necessary during an emergency, such as a hurricane or winter storm.
D.L. Humphrey - 05/27/12 - 19:19
THe Walter is very similar to RDU's 1977 model. I would bet they added the reel to the front during the refurb, as well as the new nozzle for the roof. More than likely, it came from the factory originally with a Rockwood dual agent turret.
DJ - 05/27/12 - 21:52