06/03/12 92 W, 1 I - + 4 - 3 Cary Rural Fire Department Badge
From a reader, here's tonight rare artifact photo. This is a Cary Rural Fire Department badge, circa early 1960s. The department was organized on September 15, 1960, when the Cary Fire Department was split into two separate organizations. One department served the town, and the other the uncorporated areas. CRFD soon adopted the name of their fire district, Yrac. That's Cary spelled backwards.
Read more CFD and YFD history
. And see a
Yrac FD badge
that recently appeared on eBay. Thanks Dustin!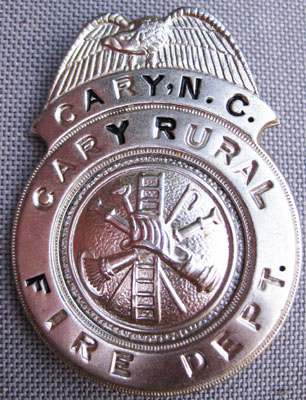 ---
I will give you ten bucks for it Dustin!
Kermit - 06/03/12 - 23:59