07/01/12 209 W, 2 I - + 5 - 4 This Morning's House Fire on Jasper Court
Durham Highway, Bay Leaf, Wake Forest, Stony Hill, and Bethesda firefighters fought a major house fire in north Raleigh this morning. Dispatched at 5:05 a.m. to 2620 Jasper Court. Two-story, wood-frame structure with 2,056 square-feet. Built 1997. Heavy fire in the back of the structure, from the deck to the roof. Durham Highway Pumper 1 first on scene.
Pulled a line to the rear, and another to the front door. Fire knocked in rear of structure, then crews entered structure to attack on first and second floors, then into attic. Crews evacuated after attic became fully involved. Deck gun used to knock down bulk of fire, then crews re-entered structure to finish extinguishment. Aerial operations Scene lighting with Bay Leaf Ladder 25.
Fire controlled in 45 minutes, reports News & Observer. Durham Highway personnel were still performing salvage and overhaul at mid-morning, as Wake County and Raleigh fire investigators worked to determine the cause. Units on scene included Durham Highway P1, P4, P3, R5, Bay Leaf P366, P258, L25, Wake Forest E5, Stony Hill P261, Tanker 268, Bethesda 421; EMS 22, EMS 12, EMS 6, EMS 54, D4, T1. See stories from WRAL and WTVD. Mid-morning aftermath photos from Legeros forthcoming.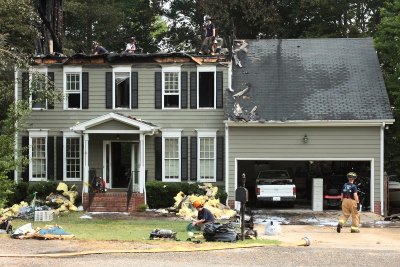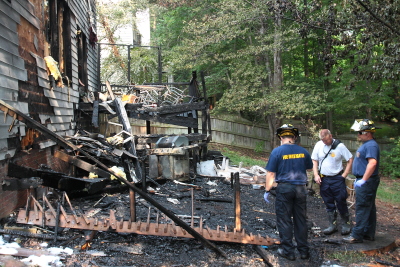 ---
Interesting to look at this. It seems to resemble the fire on Dagmar last summer in several ways. Any other thoughts on it?
206 - 07/01/12 - 15:30
This was the fire on Dagmar in Wake Forest last summer: http://www.legeros.com/ralwake/photos/we..
Legeros - 07/01/12 - 15:34
I was at both and went inside on both. Dagmar seemed to have more interior damage but the spread seems the same
206 - 07/01/12 - 15:35
Mike- Bethesda 421 was also on scene.
DH - 07/01/12 - 19:31
There are not a lot of hydrants in this neighborhood….....did that impact the ability to fight this fire?
Neighbor - 07/02/12 - 17:19
Neighbor, from what I have heard from those on scene, no. Each truck carries 1000 feet of our 5" supply line that connects to the hydrant and we can even go further than 1000' by utilizing additional trucks along the way to boost the pressure. Also the county departments like the ones that responded here train rigorously on water operations in areas without hydrants. What we will do is set up a "drop tank" which is basically a big folding 2100 gallon swimming pool and large tanker trucks will come and dump water into them. The truck that is pumping the fire will then suck the water out of the drop tank and send it down the line to the firefighters. Also most engines in Wake County (not the city of Raleigh) carry at least 1000 gallons of water on board at all times. So no fear your house is quite safe even if you are not near a hydrant!

The tricky part to this fire is that it had progressed so far before the fire department was even notified.
Friendly FF - 07/03/12 - 01:07
wow good catch 206 they look almost identical!
ff - 07/03/12 - 01:08
Incident description updated, and with a correction. No aerial stream, but deck gun used.
Legeros - 07/08/12 - 11:39
Does anyone know the cause of the fire? – Neighbor
Nicole - 07/08/12 - 16:49