07/15/12 195 W, 3 I - + 3 - 1 Making Entry
Two members of Raleigh's Haz-Mat 1 (operated by Engine 2) make entry into an engineering building on the campus of North Carolina State University, in the top photo from yesterday. Reported as a fire alarm, with Engine 20 and Ladder 7 dispatched to 911 Partners Way. That's a three-story, brick and steel educational building with 128,768 square-feet. Built 2004. Engine 20 found smoke on the third floor, and the call was upgraded to a structure fire.
Fire found in a wastebasket in a lab on the third floor. Sprinkler system had also activated. Extended salvage and overhaul operations. Room also investigated for hazardous materials, which special called a haz-mat unit. None found. That's Engine 20 in the bottom photo, with a booster line deployed for a decon pool. What's the secret to that deep-focus? Auto-DEP setting on my Canon setting, plus a lot of light. Bright sun really helps.
Units on scene included E20, E8, E1, E5, L7, L4, R3, B4, B2, A1, C10, C20, EMS 8, D1, T1. See entire series of photos by Mike Legeros. Perfect conditions for photography at this one.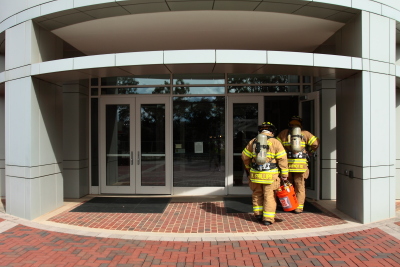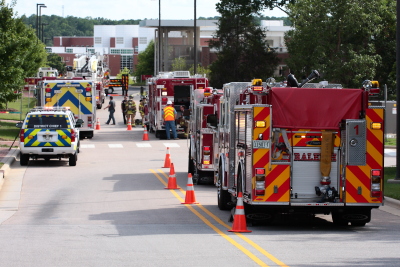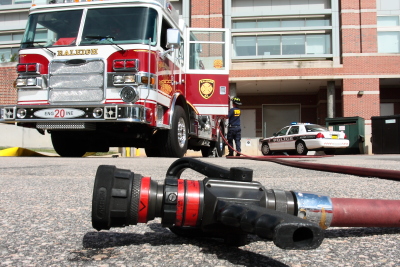 ---