07/30/12 165 W, 1 I - + 8 - 5 Wilmington Firefighters Memorial Volleyball Tournament, Saturday, August 4
Our friends at the Wilmington Fire Department pass along this event notice. On Saturday, August 4, they're hosting a volleyball tournament at Capt'n Bill's Backyard Grill, 4240 Market Street, to help raise funds for the Wilmington Firefighters Foundation. Come and support the firefighters memorial that's being constructed at Station 2 at Empie Park. There will be raffle prizes, bounce houses for the kids, a corn hole tournament, and an exhibition game with Wilmington firefighters versus Wilmington police officers.
If you'd like to participate, early registration is $100 for a four-person, co-ed team. All proceeds from the registration fees and raffle go towards the Memorial Fund. Registration for the tournament starts at 11:00 on Saturday, and the games will begin as soon as registration ends and the brackets are made. See this tournament flyer or visit the memorial web site at wfdfirefightersmemorial.org. For more information, contact Rodney Lester on Engine 1-B at Fire Headquarters.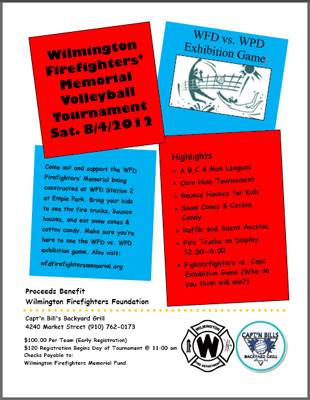 ---