09/06/12 207 W, 3 I - + 3 - 5 Bay Leaf's Big Fire
Major house fire in north Raleigh tonight. Bay Leaf Fire Department arriving at 1601 Kirkby Lane, at a three-story, brick, single-family dwelling with 4,916 square-feet. Built 2004. Located at end of dead-end street, no hydrants in subdivision. Heavy fire on second and third floors, and in attic, with defensive operations soon starting. Crews withdrawn from rear of structure, due to collapse hazard. Aerial operations started, after water supply established.
Water shuttle used, with drop tank and relay pumping from Kirkby Lane and Caistor Lane. That's about 1,000 feet, says Google. One water point at Mt. Vernon Church Road and Norwood Road. That's about 1.1 miles, says Google. Dispatched about 5:20 p.m. First photo (top) taken about 5:55 p.m. Operations ongoing as of 9:55 p.m.
Units on scene included Bay Leaf P252, P366, P251, P122, P258, P121, L25, A12, C1 and others; Durham Highway P1, P4, Wake Forest E5, Stony Hill P395, tanker 268; Rolesville tankers 157, 158; Creedmoor engine and two tankers; Wake County EMS 22, EMS 12, EMS 34, EMS 15, EMS 7, EMS 6, D3, M93, M95, T1. See preliminary photos by Legeros, who tried his best while also holding an umbrella. More later. Bed time.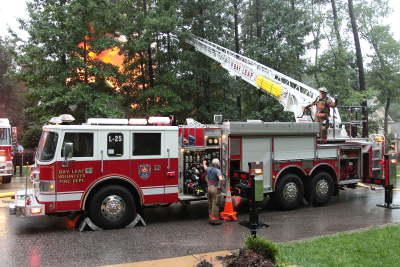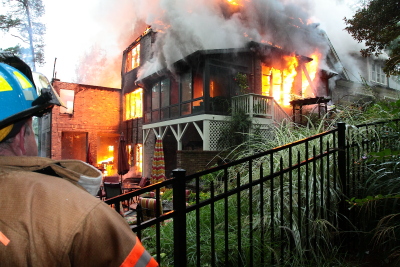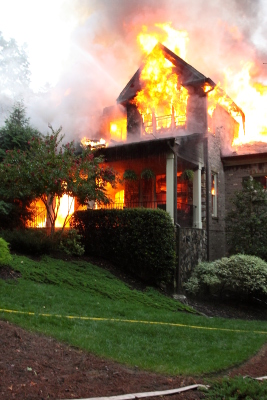 ---
Holy Cow….Looks like the North side boys had all anyone could handle.
Mike's right, that's a bunch of 5".
Talk about a long overhaul!
Buckwheat - 09/07/12 - 12:54
Thats one heck of a load of fire…. It either went un-noticed for a period of time or an arson job, glad no brothers were hurt during this incident…
Jim - 09/07/12 - 15:22
It was a lightning strike, and unfortunately the family is out of the country. Gotta be a terrible phone call to get especially being so far away trying to enjoy a nice vacation.

EMS 12 was reassigned to a wreck immediately after dispatch and was not there.
Weenie Roast - 09/07/12 - 17:14
This fire is an excellent example where the presence of residential sprinklers may have provided a totally different outcome. At a minimum, if no sprinkler system is installed, at least have a fire alarm system for early detection capability! This fire had a big head-start due to no detection or existing automatic protection.
A.C. Rich - 09/08/12 - 23:20