09/24/12 129 W, 1 I - + 5 - 7 Forest Fire Tower For Sale
From a reader as found on eBay. Get your very own 100-foot MC-39 Aeromotor Forest Service Fire Observation Tower from the early 1950s. Merely $28,000 via Buy It Now. Currently disassembled and stored in northern New York State. Ready to load and ship on or around end of January. Made of heavily galvanized and nearly rust free steel. Observation cabin at top measures seven by seven feet, and is made from galvanized sheet metal. Think of the possibilities! Airborne man cave! Sky-high deer stand! Neighborhood zip line! Just ignore that little voice inside your head that says "my wife would kill me." She'll be thrilled.
Here's the listing
. Go for it. Thanks for passing along, Bob.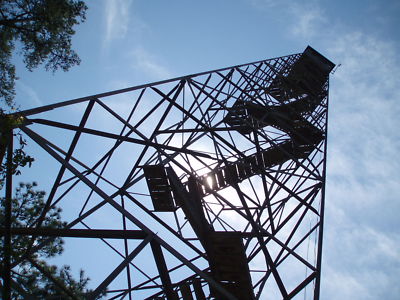 ---
Just don't put it up near the airport without telling the FAA...
And I think NCFS's firetowers are one the surplus list.
Duda (Email) - 09/24/12 - 10:37
I'm very sure Duda is right; the pix look a lot like the ones I took once at Green Cross Fire Tower, in Bertie County.

So why are they talking about it being in New York State? Sooo confused!

?Que es?
Chuk (Email) - 09/24/12 - 16:57
According to the listing:

SHIPPING AND HANDLING – The disassembled Fire Tower structure may be shipped partially assembled in that the Observers Cabin may be whole but the 90 foot section of Fire Tower below the Observers Cabin will be totally dismantled. Total weight for trucking estimates is 24,000 pounds(twenty four thousand pounds) Within 1000 miles of its current location in North Carolina you can expect shipping to cost to be $2,500 to $3,000.00 or more. I have a trucker I use exclusively that I can connect you up with for his price. He is very reliable and takes care of each load. WE WILL SHIP AND ASSEMBLE INTERNATIONALLY.

So it's here in NC. I wonder which county? We have taken all but one or two (that I'm aware) of our repeaters off NCFS towers because we were told that they were being sold. Matter of fact, whoever disassembled the old tower (sans cabin) from Mt. Jefferson did a great job making the land look as if it had never been there.

@Chuk – It seems like the company that has this listing is in NY.
Duda (Email) - 10/01/12 - 11:48