09/28/12 128 W, 2 I - + 5 - 5 Bay Leaf's New Temporary Fire Station
This temporary fire station is under construction behind Bay Leaf Fire Station 1 at 11713 Six Forks Road. Two bays for two engines, and a trailer for living quarters. The current station building, opened in 1983, is being replaced.
The temporary quarters should be completed and occupied by mid-October. Two engines will stay there. The station's other apparatus has been moved to Station 2 and Station 3. And their boats were moved to Durham Highway's fire station, believe they said.
The replacement facility has been planned for years. Designed by Stewart-Cooper-Newell, it'll be a two-story fire station with four bays, six sleeping rooms, and an outdoor deck that doubles as a training platform. Read this earlier posting from October 2011.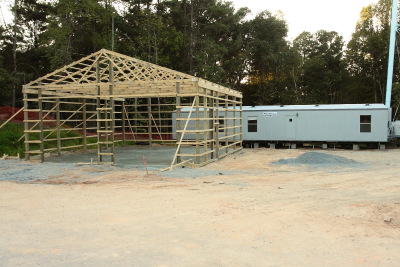 ---