10/06/12 638 W, 1 I - + 4 - 4 Sunday Open Houses at Raleigh Fire Stations
As noted yesterday, all city fire stations will be open for open houses on Sunday. They're planning for public visits and tours from 2:00 p.m. to 5:00 p.m. Here's a web page with station photos and addresses. Here's my unofficial station page, with equipment listed. But which station(s) should you visit? Here's Mike's suggested itinerary...
Begin - Station 9
Let's start just outside the Beltline, at 4465 Six Forks Road. Right beside North Hills shopping center. Easy to find, though parking's a bit limited. See Engine 9, one of the city's newer engines. And see Old Engine 1, an open-cab 1961 American LaFrance pumper that was recently returned to the city by the Raleigh Fire Museum. It won't be there long, however, as a Battalion Chief's being added to the station in January or so. (More on that news later.)
Next - Station 1
Head downtown to the big house at 220 S. Dawson Street. There are two engines and ladder there, plus the fire investigation unit. Big, ol', early 1950s central fire station. Has a pole. Has the tiller truck, a 2010 Pierce tractor-drawn aerial ladder. They don't have a large apron, however, the ladder truck will probably stay parked inside. It's still fun to see, even if it's indoors. Station 1 is the third-oldest active station in the city, after Station 6 and Station 3. The old alarm house out back is even older, erected in 1942.
Next - Station 3
Speaking of same, cruise about a mile east to 13 S. East Street. That's another two-story station, and also with fire poles. They've got a mini-pumper there, the only newer one on the roster. It's a 2005 Ford/Reading/Slagle that's pretty neat. Really low profile. Great for parking decks, or generally cruising in style. The station itself is also a compact affair.
Next - Station 27
Now let's head north, far north and east. Take Raleigh Boulevard out of town. Headed to Station 27, one of the city's newest at 5916 Buffalo Road. Nifty contrast in station design, space, and such, compared to Station 3 and even Station 1. See one of the city's two haz-mat units. (Station 2 houses the other.) The apron's nice and long, and the bay's are big and airy. Good viewing and even if the haz-mat truck's kept inside during your visit.
Next - Station 19
Continue from "rural eastern Raleigh" to "suburban Mini City," to 4209 Spring Forest Road. See Rescue 1, one of the three rescue units, and the truck itself, one of the newer ones. The 2007 Pierce is chock full of interesting stuff, including chocks. There's a boat trailer (with boats) there, so you can learn about the department's water rescue capabilities. They'll also tell about the rescue changes planned for early next year. (Again, more on that later.)
Next - Station 28
Let's go see the antiques. Drive way out to the northeastern edge of the city, to 3500 Forestville Road. That's where the department's antique apparatus is stored: 1905 steamer, 1926 pumper, 1950 pumper, 1982 pumper, and 1953 rescue boats and trailer. (Plus the 2004 American LaFrance engine.) Doesn't get much cooler than that. It's a bit of a haul, however. Plan accordingly, if you're actually attempting this itinerary. It's easy to lose track of time, when communing with Big Red Trucks.
End - Station 22
Our final destination is 9350 Durant Road. Newer fire station, with a giant apron, and plenty of room to park the trucks and enjoy them outside. There's a 2009 Pierce aerial platform at the station, a monster of a ladder truck. Plus an engine. Plus a haz-mat decontamination trailer and towing unit. So you'll get some special unit action. And it's close a mall and other things on the north side, so you can continue your Sunday fun elsewhere.
Here's the map. Let's hear what variations or alternate destinations that readers suggest...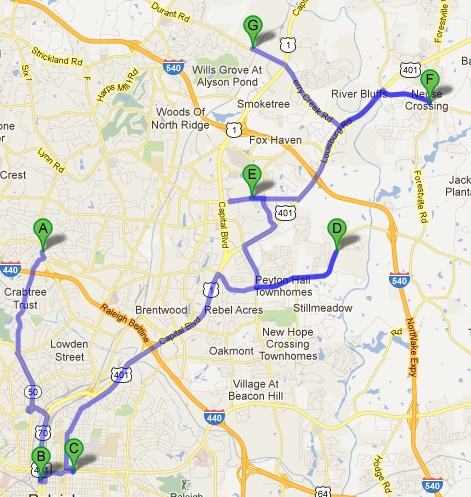 ---