10/20/12 204 W, 1 I - + 4 - 2 Tin Helmets - Iron Men by Bob Bartosz
Holiday gift alert. How about Tin Helmts - Iron Men by Bob Bartosz for your favorite firefighter or fire buff? The limited-edition hardcover is a treasure trove of Philadelphia fireground photos from the 1950s, 1960s, and 1970s. The page count is 216, the photos are black and white. Those were days of the multi-hour, multi-alarm fires, and Bartosz with a film camera and a few rolls of film. Nothing like the all-color, shoot-as-many-as-you-like digital days of today.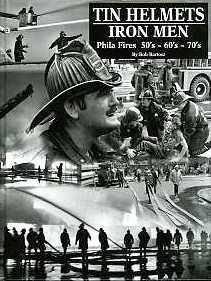 You'll also see vintage and unusual Philly rigs, such as their 125-foot articulating platform and the famous giant deluge SS 99. Plus plenty of marine units. Now what's the connection to North Carolina, you ask? That one's easy. After fifty years of fire photography-- including as official city and county fire photog in Camden, New Jersey-- Bartosz and wife relocated to our neck of the woods. They live in Nash County.



Bob's still has copies of available of his book. They're only $28.95, including shipping. Here's more information about the book, including contact information. Above is a video, showing a quick page-through of the thing. Grab a copy. You'll love it.
---
I bought a copy from Bob a few months ago and have thoroughly enjoyed it. It is an excellent read with some of the best photography I've ever seen. I highly recommend it!
Jason Thompson (Email) (Web Site) - 10/21/12 - 20:17