10/23/12 167 W, 1 I - + 6 - 5 Centennial History Book Pricing, Ordering Deadlines
In the latest issue of the Raleigh Fire Department newsletter (see prior posting), pricing and ordering deadlines were announced for the Raleigh Fire Department Centennial History Book. Here's the skinny:
Price is $60.00 until December 1.
Price is $70.00 starting December 2.
Ordering closes on January 15, 2013.
This is a limited edition, folks. There won't be any copies available in bookstores. The thing is available exclusively through pre-ordering. Here's where to order your copy, if you haven't already. (Orders have been taken for months now.) Visit http://rfd100.com/centennial-history-book. You'll see both a PDF flyer, and a link to online ordering.
What's the book about, what's inside? Visit http://www.facebook.com/rfd100book for some of that. Sample photos, sneak peeks at content. Updates on the project's progress. Hardcover book and a big one, 9 by 12 inches. Two-hundred and sixty pages. Text and photos and personnel and portraits of every retiree since the beginning (!). Don't miss out.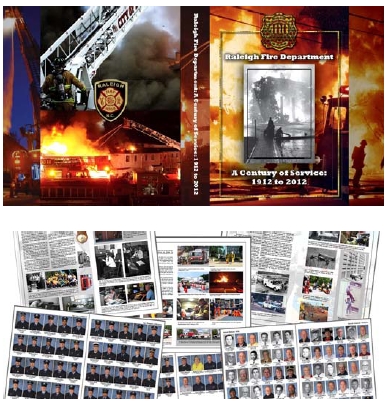 ---