11/06/12 75 W, 1 I - + 1 - 6 Ladder Pipe Liability
Firehouse.com columnist John J. Salka Jr.
calls the practice of putting a person on a tip "stupid and extremely dangerous" and with "little if any positive results." We haven't a hearty tactical discussion in a while. Readers, what's your take on this age-old practice? Second question, isn't technology ready to replace this practice, either with video or thermal imaging cameras?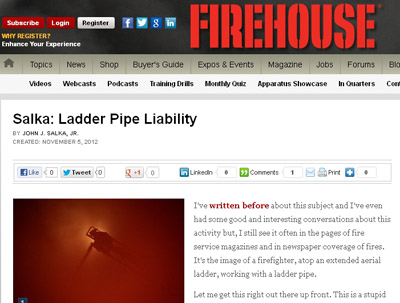 ---
Like a hot dog on the end of a stick; too many risks for a building that's been written off (thermal column shift, fall, ladder failure, operator error). If the fire isn't darkening down, move the stream. The technology is here, it's a remote nozzle. Just my opinion…..
Silver - 11/06/12 - 14:09
Having been assigned to a stick I have to disagree (not attacking, simply disagreeing). While I agree that the practice is dumb when it's a "surround and drown" situation not all aerial stream attacks are "defensive". I have been on the tip at several fires which I would consider an "offensive" attack. (I used quotations around defensive and offensive because I believe the terms to be misnomers but they are familiar in the fire service.) I also have been on the turntable operating the nozzle from the pedestal and found I simply couldn't be as aggressive due to lack of line of sight as I could if I had a man on the tip. The times I was on the tip I was able to be aggressive outside next to the gable end and roof to really knock down the fire so the inside crews could reenter to finish the job. It takes coordination with the pump operator and focused training of the ladder crew to be effective and not absolutely destroy the house by flowing 20,000 gallons inside it which would also prevent any further interior fire attack due to collapse potential. In fact, two of the fires of which I was on the tip were town homes and both were able to be repaired instead of bulldozed and rebuilt.

Besides, there are controls at the tip. If you're burning up like a hot dog on a stick move the ladder. If there is that much fire you are correct that there really shouldn't be anyone on the tip since the building will most likely be a total loss. Also, isn't the phrase "hot dog on a stick" pushing it a bit? LOL. I've been part of an interior crew when we were the marshmallow that fell off the stick! What's next? Not go in at all? I believe that to be in our near future. It's not our house and we didn't start the fire, right? Life for a life. Let's just go back to the mid 1800's and use fire bombs. Knock out a window and throw it in. Aren't our brothers in Japan resorting back to these tactics? I mean, if the homeowner says everyone's out why should we go in? Because the ONLY structure of which we know is vacant is one that has been searched.

Sorry, end of rant.
Rescue Ranger - 11/06/12 - 18:15