12/07/12 448 W, 3 I - + 1 - 4 FDmaps.com - NC Fire Station Mapping Project
Here's something that pegs the cool meter, a web-based fire station mapping project that covers the entire state of North Carolina. The site is FDmaps.com. The creator is Jeff Harkey, Editor of FireNews.net among other things. He's (a.) tracked down the location of every fire station in the state, (b.) mapped the location via geo-coding, and (c.) created a web site to host said map(s). Totally interactive. Click, zoom, pan, etc. (The whole thing started as a CarolinasFirePage project back in 2000. You've seen that before, a list of all fire stations by county. And you may have seen his FDNY maps as well.)

What's even nifty-er here is that he's included subsets of the data. Such as the location of the state's fire boats, six of which are mapped so far: Charlotte, Cornelius-Lemley, Morehead City, Station 15 - Colington, Station 35 - Military Ocean Terminal Sunny Point, and Wilmington. (What, there's one or missing? Such as, say, Wrightsville Beach? No problem, he invites users to participate and submit data. Yup, this one's heaven for buffs.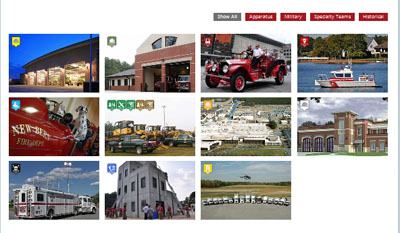 Here's a tip, scroll to the bottom of the site and you'll find drop-down menus to select specific cities and counties, as well as select categories and some special/enhanced maps:


Some of the other goodies waiting to be found on the site:
Airport fire stations - Thirty-two of those (!) containing ARFF apparatus. Woof!
Federal military fire protection agencies - Thirty-four.
Fire stations housing antique apparatus - Nineteen mapped so far. That one will probably expand.
Fire museums - Seventeen of those, wow!
Forestry facilities - Total 141, which includes NCFS, NC Parks, and USFS.
Etcetera.
He's also tracked down the private fire brigades serving in the state. Eighteen of those mapped so far. Now dying to know about them. Apparatus, equipment!?
Capstone Paper Company
Clariant Corporation
Corning
DSM Pharmaceuticals
Du Pont Teijin Films
Duke Energy McGuire Nuclear Station
DuPont - Fayetteville Works
GE Nuclear Energy
Goodyear Tire and Rubber Plant
GSK - Zebulon
IBM - Research Triangle Park
International Paper Company
PCS Phosphate
Progress Energy Shearon Harris Nuclear
Sta 2400 - Blue Ridge Paper Products
Sta 2500 - Blue Ridge Paper Products
Sta 36 - Progress Energy Brunswick
Weyerhaeuser Company
Plenty to explore on this super-cool web site, and plenty of participation for anyone with even a passing interest in the subject. Commence interacting with site. Meanwhile, enjoy as buffs in the other forty-nine states ooze envy at the latest great work of Jeff Harkey. That name again, kids, is FDmaps.com.
---
Better hope Jeff never gets arrested …
http://www.newsobserver.com/2013/02/27/2..

"Investigators also found a large map of Durham on the man's bedroom wall "with locations of police, fire and emergency medical services locations clearly marked," police detective A.K. Richards stated in a search warrant application made public Wednesday."
Paul - 02/28/13 - 10:59