01/06/13 236 W, 1 I - + 4 - 4 Heroin Stamps as Art
For your Sunday diversion, here's something entirely unusual. Am listening to the audiobook version of Blue Blood by Edward Conlon, a non-fiction biography (and police procedural) by a fourth-generation member of the NYPD. Conlon, a Harvard graduate and regular writer for the New Yorker, includes exceptionally descriptive details about the illegal drug trade. One of his passages talks about heroin stamps and the wide variety of brand names.
Wait, what, brand names for illegal drugs? Yes, as he explains. The baggies are stamped with a word or a phrase or artwork. This serves as brand identification, for starters, for the users. Anyway, he rattles off an amusing, fascinating list of brand names. Such as, say, and as found via Google: God Father, Perfect Ten, Adult Content, Sh_t in a Bag, True Story, 911, etc. (There's your truth in advertising!)
The next question is the obvious one. What do these look like? Google finds a number of sites with stories or postings on the subject. Here's one from www.good.is, about an art project in New York City. The creators are hoping to mount an exhibit of heroin stamp photos. They're hoping to "raise awareness and tell the complex stories of heroin markets in New York City, through larger-than-life images." Pretty wild. You can donate to the artists on this microdonor site.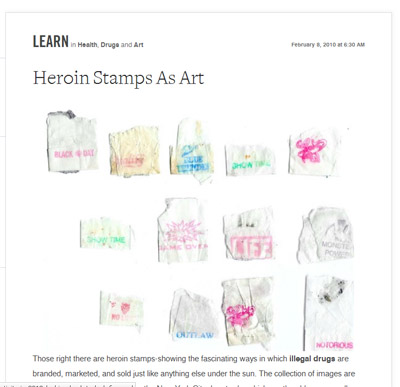 ---