04/12/13 191 W, 2 I - + 8 - 6 UPDATED: History Books of the Raleigh Fire Department
April 12
Here's another graphic for you, a web poster of sorts, comparing the covers of the four commemorative books produced by the Raleigh Fire Department since 1984. Click to enlarge:


January 10
Made this graphic today for the Raleigh Fire Department Centennial History Book. We're in the home stretch of production. Shown are the three prior history books, also called commemorative books, also called yearbooks. The first two were published in 1984 and 2002 by Taylor Publishing. They're long out of print. (But have appeared on eBay once or twice.) The text section from the 1984 book is
available online
. Written by Capt. B.T. Fowler, with annotations by Yours Truly.
The third book was published in 2007 by M.T. Publishing. That one's still available from the publisher. The three are shown to scale. Curiously, the 1984 book was larger sized than the 2002 one. They were a bugger to photograph. Damn foil reflects everything. As for the 2012 book, that one's being published by Strawbridge Studios and they're right here in Durham.
Order deadline is next week!
Get yours
if you haven't.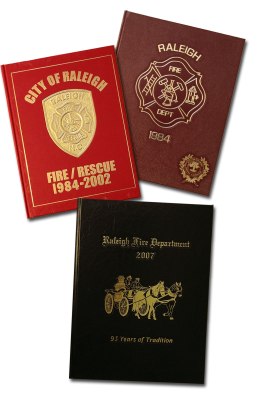 ---
I would love a copy of the 1984 book…will have to keep an eye on eBay!
AP - 01/10/13 - 15:47
Awesome work for all involved!!!
C. Smith - 04/14/13 - 23:48