01/20/13 181 W, 1 I - + 10 - 2 Raleigh Fire Department Data Management Forms, 1988
For your Sunday historical enjoyment, here's a collection of Raleigh Fire Department data management forms from 1988. These were provided in a binder at each fire station. What's so interesting about a bunch of forms from a quarter century ago, you ask? Beyond the obvious then and now enjoyment-- and historical perspectives therein-- they also show the many moving parts required to "run a fire department." Particularly one serving serving the size of Raleigh at that time.1 The forms also represent the limitations of technology at that time. Paper forms for paper recording, or later data entry.2 Today, some of this information is entered only once and in one place, but is output in various forms and formats. You've come a long way, baby.
View the collection of forms (PDF).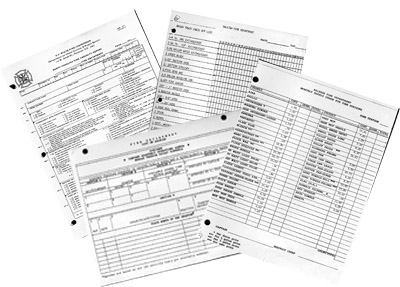 1There were certainly additional forms used by the Fire Marshal's office, the training staff, and such.
2This was just about the time the first station computers were being installed, and the first fire reporting software.
---
A vast majority of these forms were still in use in the mid-late '90s! ...with carbon paper!
A.C. Rich - 01/20/13 - 11:15