02/25/13 197 W, 1 I - + 6 - 6 Durham Names New Fire Chief
Press release. City Manager Tom Bonfield today announced the appointment of Daniel Curia as the new chief of the Durham Fire Department. Curia has served as the interim fire chief since December 2012. Curia joined the Durham Fire Department in 1990 and served as a firefighter until 1997. From then until 1999, he served as a Fire Technician, achieving the rank of Fire Captain in 1999. He was promoted in 2003 to Battalion Chief. In 2008, he was promoted to the rank of Assistant Chief of Operations. As Deputy Chief, Chief Curia has provided direct oversight for the Fire Administration, Operations, Prevention, and Training divisions.
Curia holds an associate degree in Fire Protection Technology, a bachelor's degree in Public Administration, and a master's degree in Leadership with an Emphasis in Disaster Preparedness and Executive Fire Leadership. Additionally, Curia is a graduate of the National Fire Academy's Executive Fire Officer Program, holds Chief Fire Officer Designation from the Center for Public Safety Excellence, and is a member of the Institution of Fire Engineers. Congratulations, Chief! Read entire press release or this Herald-Sun story.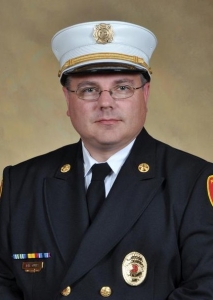 ---
Congrats Chief Curia, you've definitely earned the position. We all look forward to seeing what you have in mind for the Bull City.
Silver - 02/25/13 - 20:45
Having worked extensively with Chief Curia regarding FD Communications over the last few months I can say he is the right person for the job. He cares about his firefighters and FD and will continue to do a good job leading the city. Congrats Chief!
Marshall Sherard KE4ZNR (Email) (Web Site) - 02/26/13 - 08:50
Does Durham Fire allow members who are veterans to wear their ribbons or do they use US military ribbons to reflect departmental awards?
Chet - 03/01/13 - 18:25