09/21/13 364 W, 1 I - + 2 - 2 UPDATE #2: Wake County Eyes Upgrades to 911, Radio Systems
September 21
The Wake County Fire Commission this week received an update on this project. To recap, the current 800mhz radio system that's used by public safety agencies will no longer be supported by Motorla beginning in 2016. This was announced by them in 2008. The county thus created a master plan that year, identifying planning needs. The county engaged consultants in 2011 to assist in evaluating replacement options. The report was received in early 2012.
Three options for a next step were determined: (a.) continue radio system partnership with State Highway Patrol, (b.) form a radio system partnership with town of Cary, or (c.) create independent radio system for Wake County. The project's steering committee subsequently eliminated the Wake-only option. They presented their findings to the Board of Commissions on September 9. Their recommendation was a partnership with the town of Cary.
Meaning, all agencies that use the county radio system (which includes the city of Raleigh) would use the same radio system as the town of Cary. As was explained on Thursday night, operational benefits would included the ability to share (correct?) talkgroups. Presume that Cary and Raleigh/Wake County would continue to operate separate communications facilities. See those slides (PDF), which include some nifty maps.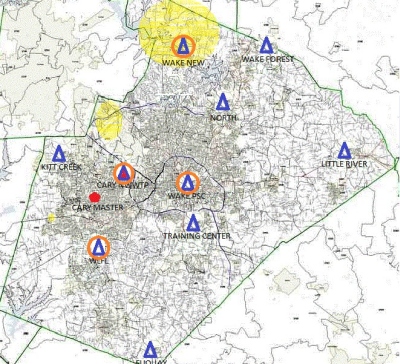 March 18
Here are the slides (PDF) that were presented to the board last week.\
March 11
Here's a WRAL story today about the Board of Commissioners consider an overhaul to its emergency communications systems. The current Motorola (dispatch center? all radio gear?) hardware is no longer manufactured, they report. Upgrades, such as added tower sites or dispatch consoles, are no longer available. Technical support ends on December 31, 2005. The need for an overhaul was identified as early as 2008, when a comprehensive review of its radio system was completed. Today, four possible plans were presented to the commissioners:
Continued partnership with North Carolina Highway Patrol ($31 million)
Combining resources with town of Cary ($30.9 million)
Completely independent system ($32.2 million)
Creating independent system to coincide with open of new public works operation center in North Raleigh.
We'll see what information we can find on the web. Maybe details from the commissioner's meeting today.
---
Their should be one dispatch center for police, fire, and EMS across the county. Have a total of 101 dispatch centers in the state with one for highway patrol and any other state police agency. Consolidation will improve services for the customer and cut down on duplicate costs at each dispatch center
ncnjems - 03/11/13 - 23:53
"Technical support ends on December 31, 2005" Typo? Don't you mean 2015?
Paul - 03/12/13 - 09:12
Technical support ends 2015, but technical relevance ended in 2005. :)

But seriously, folks… So, to continue with NCSHP and the existing towers costs $31 million, but to join Cary (and, I assume, install additional towers to cover the county) would only cost $30 million? If this is true, what are the costs over a 5, 10, or 15 year period. If the initial investment in joining Cary is lower, would the long range cost be significantly lower?

Whoever can keep the current coverage but fix the massive dead spots around Brier Creek and Battle Bridge has my vote.
rfburns - 03/13/13 - 20:07
Back in 2004, Wake County put a 35 million dollar emergency communications system online, only to see it go obsolete only a year later? And now, they want to spend another 30+ million dollars? Am I missing something here?
Jonny - 03/14/13 - 21:47
Yes, you're missing something. The typo. Motorola will no longer support this version of the radio system after 2015.

The number of users present or potentially present on this system today is beyond anybody's wildest expectations. Please don't forget that on the day that the tornadoes blew threw the county, the people at the scenes couldn't communicate. The system was "busied out" for quite a bit of the day. Much of that had to do with out-of-county traffic being monitored by state officials in and around Wake County – each of which took up system space.

The public safety personnel and citizens of Wake County deserve a system that has adequate capacity and can not be "taken down" by non-county uers.
Skip K. (Email) - 03/24/13 - 10:51
Thanks Skip. Those pesky typos.

The added slides offer some perspective on those non-county users. Meaning, the challenges of our shared radio system.

For the laymen who are reading, our radio system is shared with SHP. When they have heavy radio usage—such as during a disaster—there's less of their radio system available for the Wake County users.

Local transmitting units, for example, can get busy signals (!) because there are no more "channels" available.

There are also system-based limitations, such as the number of unique radio IDs can be issued locally. That is, physical radios issued to unique individuals or units. We're given a portion, and we're approaching that upper limit.

Did I get that all right?

[ Note, these were edited/rewritten at 12:32 p.m. today. ]
Legeros - 03/24/13 - 10:57
It is not only shared with SHP but ALL of NCEM, which is based here in Raleigh, thus taking up channels during times of disasters as well while they are communicating with their agencies statewide. WIll be interesting to see if the recommendation is pursued as I've been hearing these rumors for quite a while now.
sharing - 09/22/13 - 01:01