06/15/13 313 W, 1 I - + 2 - 1 Why Are There So Many Fire Trucks Here?
Q: Why are there so many fire trucks here? Do they need that many? Why is EMS here?
A: Allow me (and maybe others!) to answer your questions...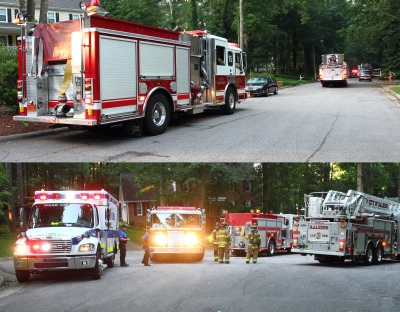 Q: Why are there so many fire trucks?
A: There was a reported house fire on this block. These are the usual number of fire trucks dispatched for reported structural fires.

Q: But why do they need so many of them?
A: Fires are fought using three things: people, equipment, and water. The many trucks that you see--the pumpers, the ladder trucks, etc.--are needed, to carry those things.

Q: Wow, that must be a big fire!
A: The fire department responds to fires with resources needed for worse-case scenarios. They prepare for big, then scale down if things are smaller.

Q: Why can't they send fewer trucks with more people, equipment, or water?
A: Because the fire department has a big area to cover. If there are fewer trucks, in fewer places, it will take them longer to travel to some locations. There will also be fewer available city-wide, when multiple fires or emergencies occur at the same time. Each fire truck, particularly each pumper, functions like a "mini fire department." They have the people, equipment, and water to handle small fires, and many other types of emergency incidents. For bigger fires and larger emergencies, those resources are merged by adding multiple fire units.

Q: Why is EMS here? Was someone hurt?
A: Emergency medical units respond to house fires also as a precaution, in the event an occupant is injured or in case a firefighter is hurt during the operation. In addition, the EMS personnel provide medical monitoring and rehab, to ensure that firefighters stay safe during the physical strenuous activities of fire suppression.
---
Why are the fire trucks so loud? Why do they have to take up the whole street? Why are they painted red? Who invented the question mark?
Ace - 06/16/13 - 07:44
I invented the question mark in the 1580s.
Henry Denham - 06/16/13 - 10:39