07/14/13 224 W, 1 I - + 2 - 2 National Fallen Firefighters Memorial Weekend Remembrance Books
Researching fallen firefighter information can be a challenge, particular with regard to biographical data. My primary sources over the years have included news reports, firefighter death reports, fallen firefighter foundation information, and death certificates. (See my web pages aboutr same, including a database of North Carolina fallen firefighters.) One more source worth adding to the list are the National Fallen Firefighters Memorial Weekend Remembrance Books. These are created by the National Fallen Firefighters Foundation as part of their memorial weekend each October. That's the official national tribute to all firefighters that died in the line of duty during the previous year.
Though the memorial has honored fallen firefighters since 1981, the remembrance books available online begin in 2000. Paragraph-length biographies were listed for each fallen firefighter. The book was 20 pages long. Beginning in 2001, small portraits were added. The books were 20 to 40 pages in length, with the exception of the 2002 edition. It was 78 pages in length and included the 343 firefighters killed on September 11, 2001. Beginning in 2003, the books featured full-color pages. Beginning in 2006, a full-page entry was featured for each fallen firefighter. They included larger portraits and longer biographies. This also expanded their length to 125 to 145 pages.
Here's the archive site. The files are PDF format. Their sizes range from 4MB to 31MB.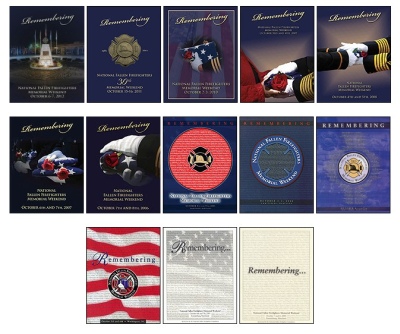 ---
Mike I can bring you one back if you want!
Jason Lane - 07/23/13 - 17:35