07/23/13 211 W, 1 I - + 3 - 5 Raleigh Fire Department Recognizes Promotions
In a ceremony at the City Council Chambers on Monday night, the Raleigh Fire Department honored seventeen recently promoted members. They recognized the achievements of individuals who obtained appointment or promotion through a competitive process. The ceremony opened with a presentation of colors by the Raleigh Fire Department Honor Guard and remarks by Fire Chief John McGrath.
Recognized were Asst. Chief Kendall T. Hocutt; Division Chiefs Robin R. Johnson and Barry D. Spain; Battalion Chiefs Kevin L. Coppage and Stephen R. Page; Captains Mark F. Kelling, Jeffrey L. Massey, Ralph R. Ripper, William M. Stanfield, Adam R. Stanley, Jason G. Whitford; Lieutenants Philip F. Arevalo, Kenneth G. Gilson, Keith D. Moses, Jay D. Rauer, and Ryan C. Stagner; Fiscal and Administrative Officer Adam S. Perry.
Also recognized were two members of the Raleigh Fire Department who recently retired: Battalion Chief Franklin G. McLaurin and Finance Officer Mark Scaringelli. Following the ceremony, a reception was held around the corner at Station 1. The procession of promoted members and their family and friends from City Hall was led by a Wake & District Public Safety Pipes and Drums piper. More photos from Mike Legeros are coming later this week. Congratulations to everyone.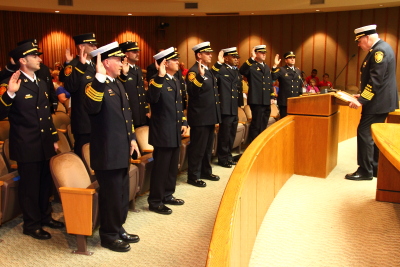 ---
Whitford promoted to Captain.
Rauer - 07/23/13 - 15:26