08/08/13 170 W, 1 I - + 3 - 3 UPDATED: Former and Historic Firehouses of Camden
August 8
Photos posted, both the street-side adventures and the old engine houses.
July 25
Reporting from the road, and after a fine day of firehouse hunting in Camden, NJ. Still on the Road to Baltimore, and today's stops included an afternoon (and dinner) in the city across the river from Philly. My tour guides were Camden Fire Department historians Phil Cohen (see his web pages) and Lee Ryan. They were a fun pair, exceptionally informative, and helped keep me out of harms way. (Was dressed down for the occasion. The tropical shirt stayed in the car.) Photos and historical information are forthcoming. Below is a preview. Left to right, top to bottom, are two volunteer houses from the days of the Stockton Fire Department. That's the town that was annexed by Camden in 1889. Next, you're seeing old Engine 1, old Engine 3, old Engine 4, old Engine 6, Squad 7, old Engine 8, Engine 9, Engine 10, and Engine 11. Pretty old buildings.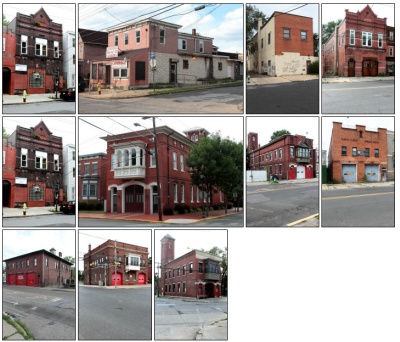 ---