08/18/13 384 W, 1 I - + 1 - 2 Adventures in Lens Repair
This happened the other week, while Mr. and Mrs. Blogger were traveling in the Twin Cities. That's East Calhoun Parkway in the background, which passes past Lake Calhoun, the largest lake in Minneapolis, the city of my birth. (Lived in the suburb of Minnetonka until moving to Morehead City at age fourteen, then to Raleigh at age eighteen.) Why is my camera pictured (a.) on the ground and (b.) in two pieces? The story starts a few days earlier, when my gear was being packed in my carry-on. Took both cameras (and both lenses). Packed a bunch of accessories, including the over-shoulder strap for this one. It attaches to the base of the camera, which is a Canon 50D. The lens is a 70-200mm F4.0, also made by Canon. The white body means it's a higher-end "L" lens. Sealed body, and resists dust and moisture. Real workhorse.
Here's what happened. While packing, the strap was unhooked from the camera, and tested for suitcase fit. Decided the strap would fit better if attached the body. The strap's connector is like a carabiner, with a metal loop, a spring-loaded goat, and a screw-locker. Smart Guy snapped the thing to the camera's body, but forgot to twist the locking screw-locker. Camera gets packed, plane gets boarded, camera gets unpacked, and camera is toted all across the Twin Cities. Take pictures like crazy on Thursday and Friday and Saturday. Then on Sunday, there at Lake Calhoun, while getting out of the rental car, Mike attempts to swing that second camera strap over his shoulder. The strip swings just fine, but the camera instead drops a solid foot to the ground. And breaks "in half."
Which is why lens protection is on my mind this week. How much to repair? The estimate from Canon via Southeastern Camera (good place) is $328.00. The replacement cost is, say, $550 (used) or $700 (new). (That is, bought somewhere online.) The warranty would be six months (repaired) or one year (new). Don't know what I'll do just yet. For now, my "long shots" are being shot with slower, lower-quality Canon 28-135mm f/3.5-5.6. See if you can tell a difference in photos posted from the last few days.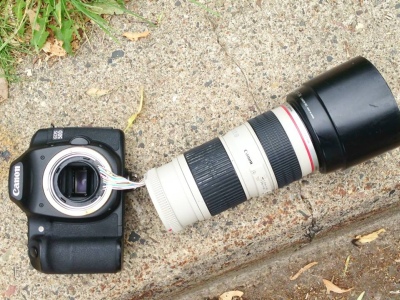 ---