09/02/13 391 W, 3 I - + 3 - 6 Last Night's House Fires
Early-evening thunderstorms and super awesome heavy rain brought predictable problems around Raleigh and Wake County. Flash flooding struck in all the usual places, such as Glenwood Avenue near Millbrook Road in Raleigh. The total rainfall in Capital City was just over an inch. According this WRAL story (with numerous viewer photos), Louisburg won that bet with 2.7 inches of rain. There was one water rescue in Raleigh, in the 8500 block of Glenwood Avenue. Stranded motorist(s). Numerous lighting strikes were reported, and working fire house fires happened in Raleigh (Hinton Street), Garner (Tavernier Knoll Lane), and Fuquay-Varina (Judd Parkway).
In Fuquay-Varina this morning, an abandoned house burned on Judd Parkway behind the Walmart. The was reported just before 3:00 a.m. Fuquay-Varina, Holly Springs, and Fairview fire departments were on scene. Apex FD was also dispatched, but returned to service. Three firefighters were transported, two with heat-related injuries and one with a back injury. All injuries were minor, and all three have been released. See this WNCN story. Readers can add incident details.
In Garner last night, units arrived at 1405 Tavernier Knoll Drive and found heavy fire in the attic of a one-story, wood-frame residence with 2,081 square-feet. Built in 2008. Two additional engines and three additional tankers were soon requested, so we'll call this a second-alarm equivalent. Units on scene included Garner E3, E9, E5, Tanker 7, Tanker 12, R1, B1, Fairview E2, E8, Tanker 6, Tanker 7; Fuquay-Varina E3. The fire was reported around 8:30 p.m. (correct?). No news reports have surfaced so far. Readers can add incident details.
Also last night in Raleigh , Engine 18 was dispatched to a medical call at 2505 Hinton Street around 9:10 p.m., and instead found a working house fire. Flames erupted from the attic of a two-story, wood-frame structure with 3,304 square-feet, and built in 1992. Crews made their way inside, while Ladder 1 was deployed. Once the aerial stream started, the fire was quickly contained. Units on scene included E18, E4, E17, E23, L1, L3, Sq15, Sq14, R1, B4, B5, A1, C20, C420, C401, EMS 6, EMS 22, EMS 35, D4. (Was a "normal" run card, compared to the west side-wide dispatches and detours of two hours earlier.) See more photos and a very short video from Mike Legeros.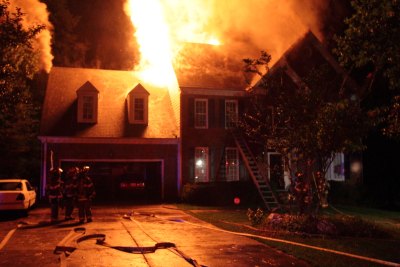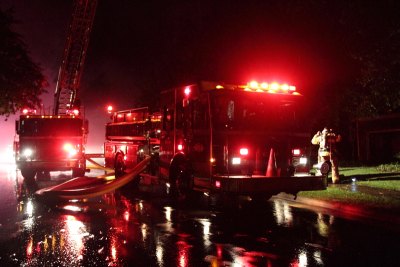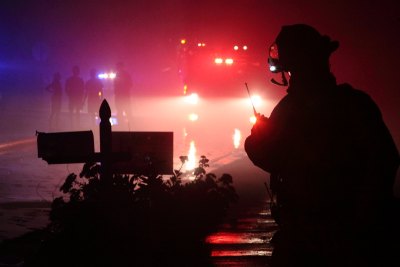 ---
More details on the Garner fire. Heavy fire in a loft above the garage. Heavy fire through the roof on Garner E-2's arrival(literally 1/2 mile from station), fire was contained to the loft. Resident was out of town at the time of the fire. Only units I believe you missed were Garner E-2 and Car 5. Cleveland Fire was also requested mutual aid for tanker but not exactly sure what they brought.
EngineCapt - 09/02/13 - 19:06
Fuquays house fire had a ceiling collapse and trapped three firefighters but all escaped safely and were all released with only minor injuries
W/O - 09/02/13 - 20:55
Great example of transitional attack! Trouble getting to it from interior due to renovations. They slowed it down with outside streams that didn't flow for very long at all (minute or less) and then went right back at it from the interior. The old saying that water pushes fire just doesn't cut it anymore. The faster the wet stuff hits the red stuff (whether interior or able to hit the seed of fire from exterior) the quicker the overall temps decrease. period! Different tactics from Camden Apts, better results as far as fire damage to structure. It could have easily burned the roof off and more if not slowed down. Number 1 thing at both fires, no major injuries.
namelessfornow - 09/02/13 - 21:01
Fairview Engine 1 also responded, but was sent to Garner station 2 for coverage. Swift Creek Tankers 2 and 6 responded. Also Holly Springs Engine 1 covered Fairview on the Garne fire.
FF8 - 09/02/13 - 23:22
I think E18's call was dispatched as an electrocution, then changed to house fire, but they weren't told about the update until they pulled up! Nice surprise there.
listener - 09/04/13 - 09:55