09/06/13 194 W, 2 I - + 5 - 5 Flickr and Twitter
Been fiddling around with my Flickr site lately. New additions include...
Plus one new photo collection:
Watch for more additions, as am planning updated photos and explorations of these Hidden Raleigh sites.


Also been busy on Twitter. Follow me, baby, it's easy! @legeros
My types of tweets are:
Notifications of posted photos to www.legeros.com/firepics
Notifications of blog posts to www.legeros.com/blog
Notifications of videos posted www.youtube.com/legeros
Other stuff, on very rare occasion. Not much of a retweeter or commenter. Have tweeted the occasional web story that I've enjoyed, or posted a real-time photo of something. Need to use the thing more.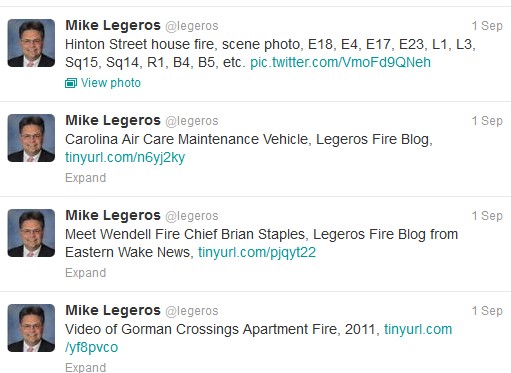 ---