09/30/13 331 W, 1 I - + 3 - 4 See You in Emmitsburg... Somewhere
Travelling this weekend to Emmitsburg, MD, to work as a volunteer at the National Fallen Firefighters Memorial Weekend. This is my first real visit to the memorial, which is located on the grounds of the National Emergency Training Center, also known as the National Fire Academy. Yours Truly will be assisting the social media team, and serving as a photographer for still shots and maybe video that's transmitting during the weekend. Due to the pending possible federal government shutdown, the logistics of the weekend are still in flux. This morning, the National Fallen Firefighters Founding is moving its operations off-campus. That will ensure operational continuity in the event that the campus (and the memorial grounds) are closed. Eighty-one firefighters will be honored this weekend. Below is this morning's press release. See you there, somewhere.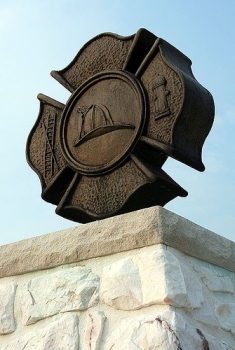 MEDIA ALERT
Possible government shutdown forces relocation Monday of National Fallen Firefighters Foundation
Ceremonies will occur even if national memorial is off limits
Emmitsburg, MD – Due to the likelihood of a Federal government shutdown, the National Fallen Firefighters Foundation (NFFF) will move its operations Monday off of the campus of the National Emergency Training Center in Emmitsburg, Maryland. The campus houses the National Fallen Firefighters Memorial where next weekend's ceremonies to honor 81 firefighters are scheduled to occur. The move will make certain that these firefighters and their survivors are honored even if a shutdown makes the national memorial at the Department of Homeland Security facility off limits.
In addition to the hundreds of survivors attending, the annual events are made possible by the efforts of more than 1,000 firefighters and others from around the country.
Recruits from the Anne Arundel County Fire Department will move items to support the weekend from the NFFF offices beginning at 9 am Eastern Time. The foundation will have senior staff and returning survivors available to answer any questions. The campus is located at 16825 S. Seton Ave., Emmitsburg, MD 21727.
---