01/11/14 287 W, 2 I - + 4 - 1 UPDATED: House Fire and Church Fire in Bay Leaf This Morning
Still piecing together details of Bay Leaf's incidents this morning. From this WRAL story and WTVD photos, they responded to a pair of working fires. House fire at 801 Carrington Drive dispatched about 2:20 a.m. Single-family dwelling of conventional construction, with 3,224 square-feet. Built 1983. Defensive operations due to heavy fire, with Ladder 25 operating along with at least one deck gun. Durham Highway and Stony Hill as mutual aid. Here's a WRAL reader photo: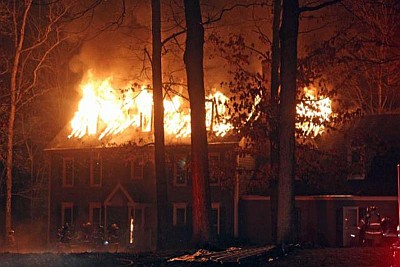 Shortly after the house fire was dispatched, Wake Forest, Stony Hill, Durham Highway, and Raleigh Engine 4 were dispatched at 2:38 a.m. to a structure fire at St. Luke Catholic Church at 12333 Bay Leaf Church Road. That's just down the road from the Bay Leaf fire station. One-story church with brick exterior and 5,776 square-feet. Built 1988. Arriving units found a working fire in the sanctuary, along with a sport-utility vehicle that had crashed into the structure, and the body of an adult male who was deceased from a gunshot wound. Here's a WTVD photo: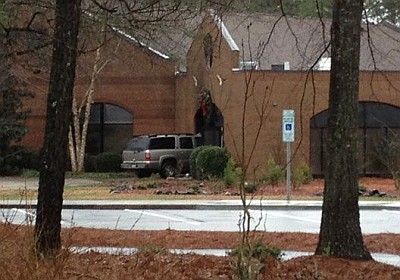 Here are some details on the dispatches and units that responded:
House fire

Initial dispatch Bay Leaf Pumper 361, Tanker 366, Tanker 258, Ladder 25, Durham Highway Pumper 1, Stony Hill Pumper 261.
Plus Durham Highway Pumper 4.

Chuch fire

Initial dispatch as fire alarm with Bay Leaf Pumper 251 and Wake Forest Ladder 1.
Upgrade to structure fire with Bay Leaf Rescue 36, Tanker 257, Tanker 127, Stony Hill Pumper 395, Wake Forest Engine 5, Battalion 1, Raleigh Engine 4.
Plus Durham Highway Pumper 3, Raleigh Car 401 for investigation.
Medical with EMS 15 as initial, and later with EMS 12 and District 3.

Coverage

Bethesda Unit 421 to Durham Highway.
Western Wake Pumper 196 to Bay Leaf Station 2.
---