01/22/14 206 W, 1 I - + 4 - 2 Five Tons of Dried Cary Poop Mysteriously Burns
That's this evening's News & Observer headline about this morning's incident, where Cary firefighters did their duty at 4900 West Lake Road. Specifically at the South Cary Water Reclamation Facility, where some tons of bio-solids (processed human waste, no sh*t!) seemingly spontaneously combusted in a silo. Recalling the radio traffic, Cary Engine 6 was first due at the doo doo, while Fairview Engine 1 was number two at number two.
They helped with an extended supply line that required relay pumping, and the closure of West Lake Road. No five-inch hose went to waste! Meanwhile, command worked with workers, who flushed the storage area with nitrogen dioxide. That's their fire suppression system, and crews stood by during the Big Snuff.
Alas, that strategy pooped-out and the still-smoldering problem was tackled with a different tactic. Five tons, count 'em tons, were shoveled by firefighters into a huge bin. There was no danger nor smell, the burned pellets will be recycled, and firefighters were left with a crappy story to end all stories. Units on scene included Cary E6, E3, L6, L3, B1, Fairview E1, and a mess of EMS units. Read the article.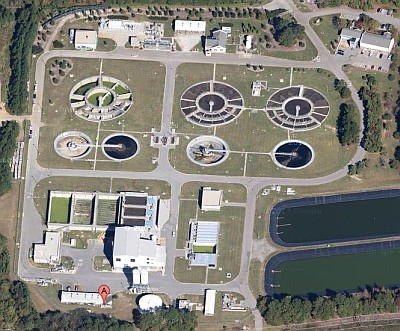 ---