02/14/14 362 W, 2 I - + 2 - 1 UL Firefighter Safety Research Institute on Facebook
Speaking of Facebook pages, the Underwriters Laboratories' (UL) Firefighter Safety Research Institute (FSRI) created a Facebook page last month, and they've been generating some great discussions with photos asking "where does the first line go?" And, more importantly, they're also asking readers to answer "why does the first line go there?"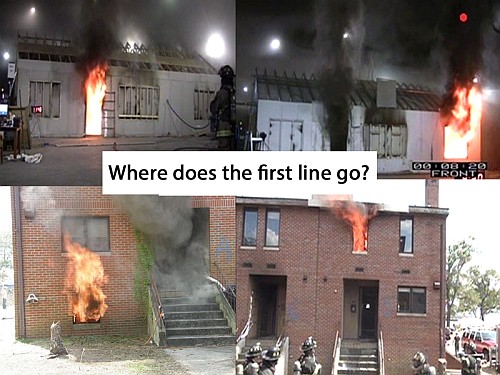 Who is this group and what are they doing? UL a safety consluting and certification company that dates to 1894, and with offices in forty-six countries. FSRI is a UL program that has partnered with the fire service, research departments, and other agencies. They conduct and disseminate cutitng-research and training programs that focus on (a.) the changing dynamics of structure fires and (b.) the impact that has on fireground tactics and strategy.
Here's a graphic, also from their Facebook page, that nicely summarizes the changing dynamics of residential structure fires today: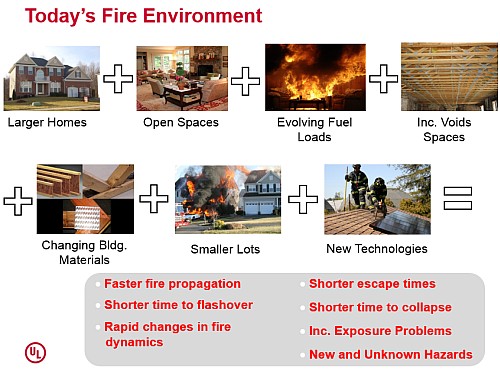 What are their findings? Tool on over to that Facebook page, and read some of "where does the first line go" discussions as a primer. You'll read about such topics as "pushing fire," what exactly is a "straight" versus "solid" stream," flow paths and perils of opening doors and windows, and even pressure dynamics. Here's on excerpt from an UL FSRI comment, on a "where does the first line go" post:
The interior of the house [with fire peaked in size without additional oxygen] is now a higher pressure than the outside, so when you flow water from the outside you will not push heat into the house because the front door is the low pressure. The steam will be created in the fire room and exit out to the front door (the only low pressure). If a door or window was opened in the rear, heat and steam would move in that direction because that is also a low pressure but this can be minimized based on stream choice and placement.

Good reading, great research. Visit www.facebook.com/ULfirefightersafety.
---
Good stuff and the basis of our existing cultural change in the fire service. Also, don't forget the more local efforts in SC and NC (Kill the Flashover Project) http://www.youtube.com/user/KillTheFlash.. Simply using a transitional attack instead of "rushing in" will diminish our interior firefighting risks significantly.
A.C. Rich - 02/14/14 - 10:41