02/18/14 324 W, 1 I - + 5 - 3 Man Rams Truck Into Raleigh Police Car After Domestic Assault
Credit this WRAL story for that dramatic headline as well as this dramatic photo from yesterday, where three Raleigh police officers were injured after responding to a reported domestic assault on Williams Road. Officer L. N. Yesh was in the cruiser and transported to WakeMed with non-life threatening injuries. Also injured, while arresting the suspect, were Officers E. E. Tansey and R. Sirinna. They were also transported to WakeMed, with minor injuries. See also WTVD and the News & Observer stories.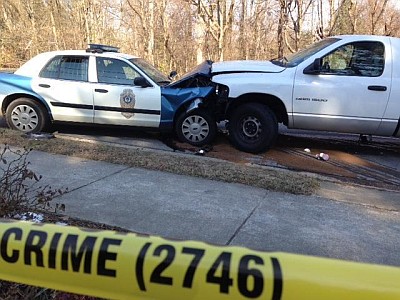 Here's the information release from the Raleigh Police Department's Facebook page.
Shortly after 10 a.m. today, Raleigh Police Department officers were dispatched to a domestic assault call involving a male suspect reportedly beating a female victim in the 900 block of Williams Road.

Responding officers were informed the assault suspect had driven away from the scene in a pickup truck, and the officers saw a vehicle matching the truck's description as they neared the call location. Suspecting the driver of the truck was the suspect who had been involved in the assault, the officers attempted to stop the vehicle. The driver of the truck refused to stop, and, after traveling a short distance, crossed the center line and struck a Raleigh Police Department patrol car that was stopped in the opposite lane.

The driver of the police vehicle involved in the crash, Officer L.N. Yesh, 24, was transported to WakeMed for treatment of her injuries. Officer Yesh, who was employed by the RPD in April 2012, is assigned to the department's Field Operations Division.

The driver of the pickup truck, Max Felton Mitchell (DOB 9/12/60), was taken into custody and transported to WakeMed by Raleigh Police Department personnel. Thus far, he has been charged with various traffic-related offenses. Follow-up investigations related to the crash and to the underlying domestic assault remain underway and additional charges remain pending.
---