03/26/14 166 W, 1 I - + 5 - 6 Vintage Raleigh Fire Department Recruitment Video (1999)
For your Wednesday enjoyment, here's a vintage Raleigh Fire Department recruitment video from late 1999 or early 2000. The almost 22-minute video was converted from VHS, after being found in the archives of the Training Division. They made the digital copy available to the Raleigh Fire Museum, which has posted on their YouTube page.
The video is a collection of clips including an introduction from Fire Chief Earl Fowler, a historical retrospective from retired Capt. B. T. Fowler (father of Earl), testimonials from members of all ranks, action footage from the 1999 recruit academy, and a splendid dramatization of a "911" call reporting a structure fire and the subsequent dispatch of companies from Station 1. (One Ms. Boone reporting said emergency!)
See the embedded video below, or click here to watch the thing.
Credits for the production, as noted as the end:
Producer Lt. Reggie Hocutt.
Videographer/Editor Melissa Swanson
Co-Editor David Wolk.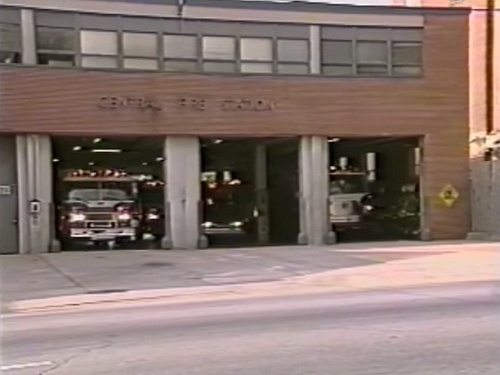 ---
That Aerialscope still pours the smoke when you put the hammer down.
Thomas Dicks - 03/26/14 - 23:09
I remember sitting at the intersection of Gorman/Western Blvd. on the scope. A guy beside us had his window down and I was trying to tell him to roll it up. He brushed it off. When the Lt. hit the gas, his car was filled with black smoke. I tried to warn him…
Stike - 03/27/14 - 13:22
@Stike Good one Stike….
Silver - 03/27/14 - 21:42
This video has been re-posted, with corrected aspect ratio. Height and width are proportioned correctly. No more wide heads (ahem) and such. Enjoy!
Legeros - 05/10/15 - 09:56