03/27/14 212 W, 1 I - + 11 - 4 Dramatic Photo From Houston Rescue
This has been a heady week for following major fires around the country. Yesterday, we watched in real-time as a Beacon Street fire in Boston escalated to nine alarms, with reported maydays and firefighter injuries. (FireNews.net on Twitter is a particularly good place to start for such updates.) We soon learned that Lieutenant Edward J. Walsh and Firefighter Michael R. Kennedy had been killed. Here's a Boston Globe story and a Statter911 posting, to start your reading if you haven't been following.
On Tuesday, all eyes were on Houston, as a five-alarm fire was consuming a block-sized apartment building. Local news reports were quickly augmented by citizen images and video of the incident, including the holy-cow-and-then-some rescue of a construction worker from a balcony. This FireCritic posting is just one of the many fire blog and news sites showing that footage.
Dave Statter yesterday posted a follow-up on the rescue, which was performed by personnel from Station 18. His posting which cites a KPRC-TV story includes this dramatic photo, with a wide aerial view of the showing the fully-extended ladder just seconds after the rescue was performed, and as the upper floors of the building were beginning to collapse. Amazing.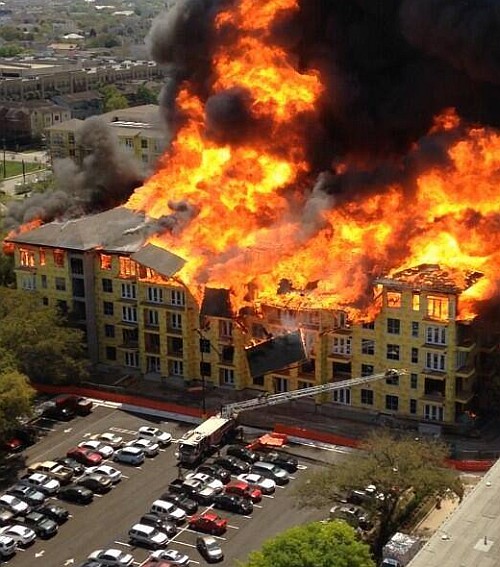 ---