04/01/14 203 W, 1 I - + 6 - 3 Raleigh Recruit Academy 39 Starts... And Some History
Raleigh Fire Department Recruit Academy 39 started last week, with thirty-four recruits reporting for duty at 8:00 a.m. on Monday, March 24. They're starting a twenty-eight week academy that'll result in state certifications as EMT, Firefighter I, Firefighter II, NCRIT, and Haz-Mat Operation.
They'll also receive training on technical rescue, fireground procedures, high-rise operations, accountability systems, safety companies, engine and ladder company operations, and firefighter safety and survival.
Read an in-depth article about the academy and the hiring process in the winter edition (PDF) of the Raleigh Fire Department Newsletter. Below is the new crew on their first day, in the first hour of their academy. See more photos from Legeros (Set 1, Set 2) and Lee Wilson.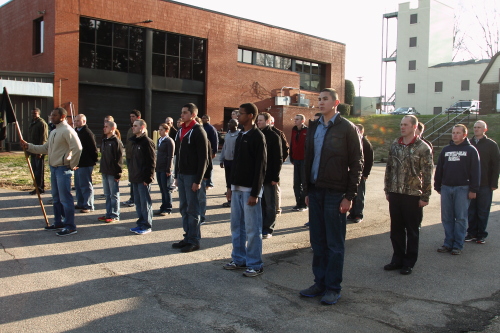 Curious about the prior recruit academies? Who graduated when? When were the "short" versus "long" academies? How long were the academies way back when? Three documents are available, including a newly posted list of
Raleigh Fire Department recruit academy graduates
(PDF). There's also
this page of each academy's photo
and some
summary data on the academies
. Memo to self, put everything in a single place, instead of three separate places.
---