09/03/14 82 W, 1 I - + 5 - 6 New Wheels For Durham County EMS
Durham County EMS has posted photos on their Facebook page of a new supervisors vehicle. That's a Ford F-250 Super Duty with a body by... TBD. Equipment includes their current "equipment platform" plus additional bariatric equipment. Love the new graphics package. The side scene lights are a nice touch.
Readers, what other configurations are you seeing around the area (or state) of EMS light trucks or QRVs?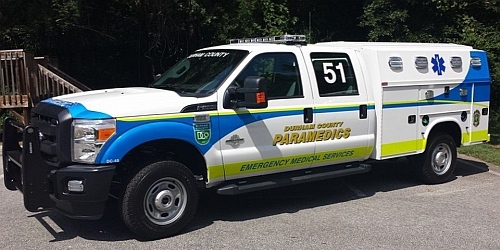 ---
Several years ago, FirstHealth of the Carolinas (EMS in Chatham, Montgomery, Richmond, and Chesterfield Counties; used to be EMS in Hoke County) operated an F350 with a small modular body for the supervisors and QRVs. The unit was transport capable, but was not a primary transport ambulance. FHCs ambulances had the logo PARAMEDIC UNIT on the doors, while the mini-mods had MEDIC UNIT on the doors. They were staffed with one paramedic, and we would have to get someone to drive us. Chatham had three of those units at one time. Ultimately there were, I think eight of them system wide. The first one was a two wheel drive chassis, but the remaining seven were four wheel drive. The Chesterfield (SC) unit also had a winch placed on the front.

A lot of EMS agencies use various SUVs for supervisor response and QRVs. Some also use pick-up trucks (same sort of unit as some of the RFD USAR personnel and Cary FD BCs).

Personally, I think the units like Durham's new ones, as well as the District 5 unit used by Cary EMS, offer the best capabilities for EMS response, ICS, and MPI response.
DJ - 09/03/14 - 22:07
Legeros, you should look into Guilford County EMS' supervisor and Medic QRVs. They have a unique unit 400 as a supervisor vehicle and type I ambulance paramedic QRVs.
WD - 09/04/14 - 01:29