09/27/14 319 W, 2 I - + 5 - 3 Flood-Prone Milner Inn Acquired by City of Raleigh
As yesterday's press release noted, the City of Raleigh is acquiring the Milner Inn at 1817 Capital Boulevard, which is one of the most flood-prone properties on Capital Boulevard (my words). It and three other sites were damaged by flooding on August 12. Recall the water rescues performed (see photos) as residents and patrons were evacuated from the Inn and the adjacent Foxy Lady.
The city and the owners have agreed to a purchase price of $830,00. The closing is tentatively planned for mid to late October. The acquisition is being funded through a FEMA grant program both (a.) in response to historical flooding events and (b.) to eliminate future claims submitted to the National Flood Insurance Program (NFIP).
Prior to this deal, the city had used FEMA grants and budgeted Stormwater Utility fund monies to fund the purchase seven structures that had experienced multiple flood-related losses over the years. Here's a blog post about the demolition of the nearby AMF bowling alley in April 2013, and the related Capital Boulevard corridors study.
The city plans to demolish the hotel and the neighboring night club. Their goal is to build a park in the area between the north and southbound lanes of Capital Boulevard, and through the incremental acquisition of the commercial properties therein. Such a park would improve the appearance of the city's northern gateway, as well as improve flood control both there and downstream.
The News & Observer has a good article on the story by Colin Campbell. Below are pictures of the Inn's flooding both in August and in June 2007, when remnants of a tropical storm brought flooding to a number of areas around Raleigh.
Readers, what are your memories of flooding (and responses to same) at the Inn or neighboring properties, over the years and decades?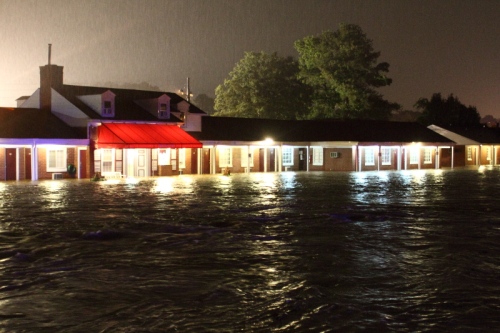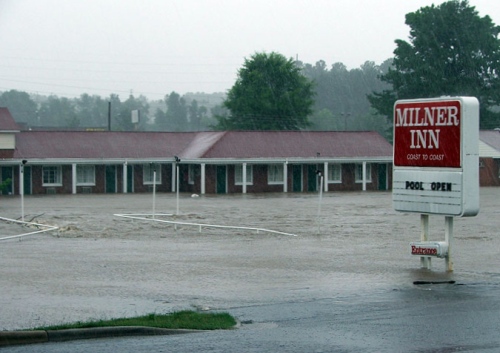 ---
My suggestion is they flood and the USAR guys can use it for permanent water rescue training….
Stike - 09/29/14 - 22:08