12/02/14 337 W, 1 I - + 8 - 4 Update on Raleigh Fire Station 29
We're two months away from the completion of the city's newest fire station. Located on the northwest edge of the city at 12117 Leesville Road, Fire Station 29 was originally planned to finish at the end of December. The revised completion date is the end of February. Engine 13 will be temporarily relocated from Station 1 to serve as Engine 29.
Then at the end of April, when the current recruit academy graduates, the permanent positions will be available. Engine 29 will be staffed as such as well as the new Ladder 9. (Location still being assessed for the ladder, believe northwest side.) Haven't heard (or, ahem, thought to ask) which reserve engine will be bumped to front-line status for same. The ladder company, however, will operate the 2001 Quality/Spartan quint. That's the 75-foot straight stick that originally served as Engine 23 before a history as Truck 24, Truck 23, Ladder 4, and Ladder 1.
The three-bay, single-story fire station was designed by Williard Ferm Architects. They also designed Fire Station 28. This is the first new fire station for the city since 2007. It's only the fourth three-bay station, after Stations 1, 23, and 28. (Two of those were city projects, with Station 1 built in 1953. Station 23 is leased from Durham Highway Volunteer Fire Department. It was expanded in 2005 with living quarters for a second ompany.)
Differences between the two include a central watch station with views of the building's public entry, centrally located office, day room television area in alcove, dormitory rooms with open floor plans, and exercise room moved from core of building. Plus of course, the thing's huge. The site is 2.86 acres. The building is 10,000 square-feet in size.
Next up for fire department facilities? Improvements to Station 5 this fiscal year. Rebuilding Station 6 next fiscal year. Expanding Station 11 starting soon. Building new Station 12, Station 14, Station 3, etc. See this special facilities edition (PDF) of the Raleigh Fire Department Newsletter for more information. See more construction photos by Mike Legeros, going back to March. Plus a few building and site plan images.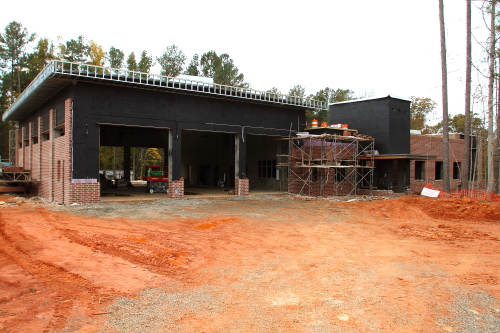 ---