12/13/14 315 W, 1 I - + 8 - 3 Presenting a History of the Morehead City Fire Department
Announced a new page of historical information: www.legeros.com/history/morehead-city. Landing page is a basic web page. Research documents are PDF files. Three of them: apparatus, infrastructure, and timeline. Why Morehead City? That's is my adopted hometown. Moved there at age fourteen from Minneapolis. Their history has increasingly interested me as the decades have passed.
First dipped my toe into the subject in 2005, for the first of a series of "Then and Now" articles for FireNews.net. The series was based on Sanborn Fire Insurance Map information and compared the composition of fire departments around North Carolina between the 1900s-1910s-1920s and present-day. Also around that time a visit was paid to the Carteret County History Place. Obtained old photos, some notes, and a retrospective from 1951 published in the News-Times.
Fast-forward a few years and a few blog posts later. Compiled this timeline in September. Was a good start, but too short. Enter Captain Jamie Hunnings and his historical information. We commenced a long-distance collaboration. Primary sources included the aforementioned article and fire department centennial celebration brochure from 2006. Remote research was conducted, with bits and pieces found via Google searches. Particularly about major fires and notable incidents.
Added some images, including vintage pictures from Jesse Chaplain from Beaufort (from a prior posting) and apparatus photos from Lee Wilson. He's done great work capturing their rigs during annual beach visits over the last couple decades. The site still needs more images. That's something for someday. Maybe we'll see some submissions from readers or MCFD. But the historical information is tight 'n' right. And ready for feedback, from anyone with edits or additions or questions.
View the history of the Morehead City Fire Department.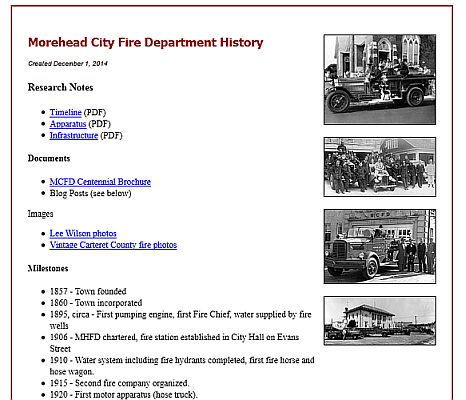 ---