12/16/14 281 W, 3 I - + 6 - 8 Airport EMS Station Update
What's happening with the airport EMS station project, you ask? The station was closed on October 14, 2014. EMS 34, EMS 35, and Medic 95 were relocated to the Lynn Road EMS station. That is, they start their day at same. EMS 34 anchors at WakeMed Brier Creek. EMS 35 anchors at Pleasant Valley Shopping Center. Medic 95 also sort of anchors at that location.
As for the building, that's the former Bay Leaf Station 3 / Six Forks EMS / Six Forks Rescue / Six Forks Fire Department building. Ownership of the 12,642 square-foot structure and its 1.09 acre parcel transferred to the county on September 19, 2012. Read more history in this prior posting.
The address of the airport EMS station is 6901 Mt. Herman Church Road. That's right before one of the airport's runways start. (Awesome views of incoming aircraft. They're right over your head.) As the aforementioned prior posting also notes, the three-bay building will cost $1.25 million. Estimated 4,084 square-feet, including supervisor's office, four-bed dorm, kitchen, and day room.


We're told that completion is estimated in June or July. Only changes to plans is a slight shift of the building. The thing's been moved a little to the northwest, to get out of the flight line restrictions. Demolition should be starting now. The property is owned by the Raleigh-Durham Airport Authority. They've had the land since June 21, 1990.
The former EMS building was built in 1972 and opened in 2005 as a Six Forks EMS station. Unsure the former tenants. The airport acquired same in 1990. Couple neat loading docs on the side and rear. Doubtfully will be missed. See exterior pictures of the building, from the other week.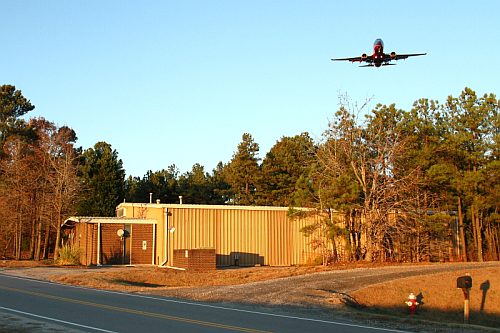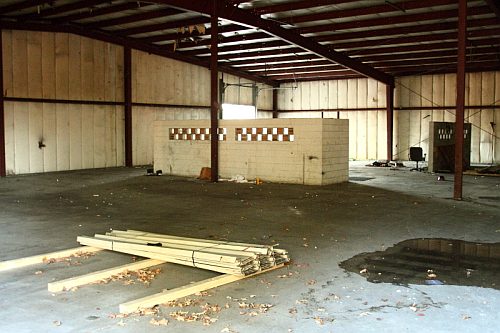 ---
One of the aforementioned docks was quite handy for washing the roof of an ambulance if memory serves.
PJ - 12/17/14 - 10:40
It's interesting that they had a EMS Station near the airport (EMS6) for many years, then left. Then Six Forks used the warehouse building, and now they're building another one. I guess old EMS 6 was to close to 40 and not to 70? That used to be a decently busy truck if memory serves correct.
Airport EMS - 12/18/14 - 14:07
The airport station (EMS6) was busy, sort of. Most of the calls were 'no transport' so no revenue generated. Plus, it was close to EMS54 in Morrisville. Six Forks placed #1273 at the airport (later renamed to EMS123) and it ran from 08:00 – 20:00. Having worked at both of them (EMS6 and EMS123) neither at the time would be considered really busy stations. EMS6 was a nice 'break' station, and EMS123 was a good nap station, until the move-ups started.
Grizzle Medic - 12/19/14 - 16:12
Worked 6 for 2 rotations in one year in 2000,.. I think we averaged 2 calls a week if memory serves. Most of the runs then were move ups to ems 4 when the city got low on units. Spent a lot of time in the tower and chasing deer from the runway with CFR.
Brandon - 02/03/15 - 14:50