03/17/15 234 W, 1 I - + 4 - 3 Vintage Pamphlet - Fire Fighting for Householders
Bought this on eBay, a vintage pamphlet published by the Federal Civil Defense Administration. Fire Fighting for Householders, created around 1951, last revised in 1958, and reprinted (this copy) in 1963. There was a short film also created about this subject, as this Atomic Theater page notes. It was one of nine films, created to "dispel the myths surrounding atomic weaponry" and with each film "addressing a different danger posed by an enemy attack." Adds the page, "by the end of the decade, more emphasis was placed on protection from fallout radiation" versus fires. The film's information was declared obsolete, advised the FCDA, citing "advances in warfare and change methods of protection." Oddly, the pamphlet was nonethless reprinted some years later.
Recall that civilian fire protection during wartime was emphasized in Raleigh with the creation of the city's auxiliary firefighter program shortly after the United States entered World War II in December 1941. This replicated programs conducted both statewide and nationally. Volunteer members received training related to wartime firefighting and rescue operations. Government-issued training materials of the time listed auxiliary firefighter training topics as fire streams, ladder work, forcible entry, ventilation, pump operation, salvage and overhaul practices, blackouts, bomb identification, and decontamination. Read some of that history.
Read the entire Fire Fighting for Householders pamphlet (PDF).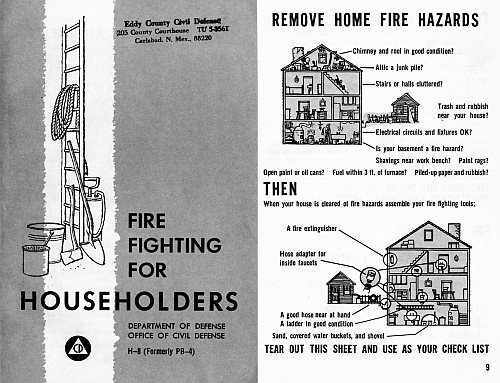 ---