03/30/15 181 W, 1 I - + 4 - 2 Video Clips From Sunday's House Fire in Raleigh
Found via FireNews.net on Twitter, here are pair of very short video clips of Sunday morning's house fire in Raleigh on Casland Drive. They're from YouTube user and apparent neighbor Will Pearce. They're embedded below this picture from Mike Legeros. See more of his photos. Incident summary:
House fire at 5001 Casland Drive. Upgraded to working fire while units were en route, due to multiple calls. Engine 21 arriving at a two-story, wood-frame, single-family dwelling with 2,450 square-feet. Built 2002. Heavy fire and smoke found from second floor and through roof. Transitional attack, with crews attempting to make entry. Quickly changed to defensive mode with all occupants accounted for, and collapse conditions observed. Ladder 2 with aerial operations, plus portable monitor in rear, and hand lines. Dispatched 8:32 a.m. Controlled 9:15 a.m. Cause determined as accidental, child playing with cigarette lighter. Included E21, E27, E11, E12, L2, L8, R1, B1, B2, A1, C20, C401, EMS 5, EMS 36, EMS 7, EMS 2, D1, T1. "B" platoon.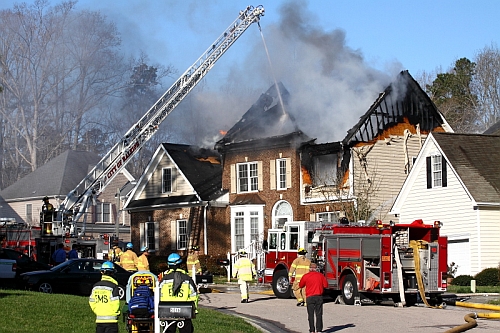 View on YouTube


View on YouTube
---