04/01/15 177 W, 1 I - + 5 - 2 FDMaps Does Detroit!
Here's one of the coolest fire history sites we've seen in sometime: detroit.fdmaps.com. Or more simply, Detroit Fire Department Maps. Debuted last week. The extensive, exhaustive site is the work of fire buff slash designer Jeff Harkey.
You know him as the Editor-in-Chief of FireNews.net. He's also the creator of FDMaps.com, which started as a North Carolina fire station mapping project. The site and the brand has extended to fire station maps of Atlanta, Chicago, and now Detroit.
There's much to explore on the site, including such goodies as:
Active firehouses - Mapped and listed
Historic firehouses - Mapped and listed, plus histories, plus current and/or historical building photos
Evolution of fire department growth - Video showing the department expansion and contraction from 1850 to 2015
More maps - Including volunteer era companies and all closed career companies
Apparatus photos - Historic images from the hand, horse, and motorized eras.
Hit the site and lose yourself for a couple hours. You'll have a blast.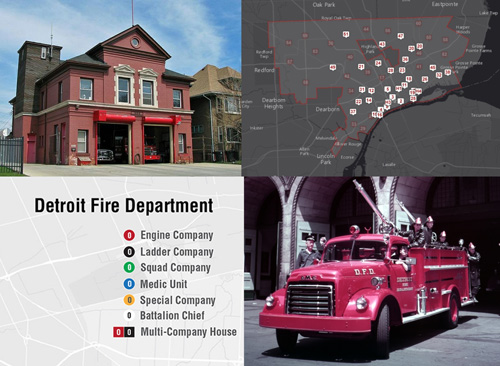 ---