05/31/15 475 W, 7 I - + 6 - 2 Report From The Winchester Firefighter's Parade
Attended the Winchester firefighters parade a few weeks ago. First time visit, both to the town and to the Shenandoah Apple Blossom Festival. Absolutely enjoyable experience. The firefighter festivities consisted of two events on Friday, May 1. First was a fire truck rodeo and display of apparatus. From 9:00 a.m. to 12:00 p.m. See the event description.
This happened at Millbrook High School, where a couple of parking lots were used for staging, exhibition, and the driver's course rodeo. There was also judging of each fire truck or emergency vehicle. Each parade entry was inspected and judged in a number of categories, including both fire and EMS categories, and types of vehicle. See the award winners on this page.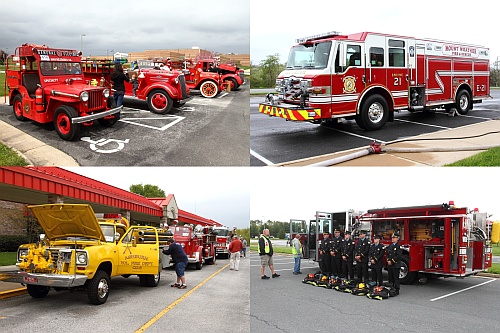 The Old Dominion Historical Fire Society was the sponsor of the parade's first division, consisting of antique vehicles. There were four divisions in the parade.
The ODHFS is based in Richmond and is a Virginia regional chapter of the Society for the Preservation and Appreciation of Antique Motor Fire Apparatus (SPAAMFAA). There were also other sponsors of the day's events, including Rosenbauer Fire Apparatus Dealers, Rappahannock Electric Cooperatove, and Wal-Mart.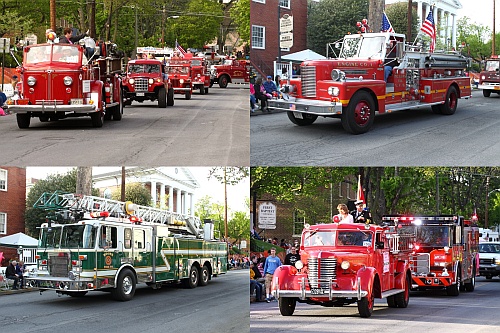 The parade was a three-hour (!) affair that started at 5:30 p.m. Trucks and equipment starting staging in early afternoon, with some firefighters attending the downtown Apple Blossom Carnival on Cameron Street. There were duty shirts and uniforms a-plenty that day!
The parade started on Cork Street at Cameron, turned right on Braddock, turned left on Piccadilly, turned left on Washington, turned right on German, turned left on Stewart, and turned left on Handley before ending at Cameron. Click to enlarge this map excerpt, or see the entire map (PDF).


How many trucks are we talking about? Over three hundred! Here's the complete list, as featured in the official program. There were may have been some missing in action and/or substitutions. See Mike's photos from the parade and rodeo, which include some of the Winchester apparatus that appeared.
Click to enlarge these excerpts from the official program:


Some notes about Winchester. The city is protected by four volunteer fire companies with sixty-six career members, twenty-one active operational volunteers, and sixty active administrative volunteers. Read more about Winchester Fire and Rescue, which is comprised of:
Friendship Fire Company #1 - Organized 1831
Rouss Fire Company - Organized as early as 1789, as Union Fire Company
Shawnee Volunteer Fire & Rescue - Organized 1953
South End Fire Company - Organized 1895.
There was a fifth fire company also served the city, the Sarah Zane Fire Company, organized in 1840 and disbanded in early 1980s, with members joining the Rouss Fire Company.
Readers are welcome to add their own perspectives, on that day's events and/or the departments that serve Winchester.
---