06/29/15 268 W, 1 I - + 8 - 3 Video Footage From 1992 - IGA Grocery Store Fire
For your Monday morning enjoyment, here's a half-hour of historical video footage from December 20, 1992. That's when the IGA Grocery Store burned at 718 N. Person Street. Dispatched at 11:34 p.m., Engine 3 arrived with smoke showing from the rear of the store.
A second alarm was struck at 11:39 p.m. and a third alarm at 12:07 a.m. Fire progressed through the entire store and even threatened two of the three aerial apparatus in operation. You'll see crews cooling both Truck 1 and Truck 11. As for the third truck, that's a then forty-four year-old straight stick in operation!
We've blogged about this incident before, with a historical perspective last updated in September 2012. See also this PDF document that compiles the narrative and photos.
What happened to the store? It was demolished and, if memory serves, thus ended grocery service on the east side of downtown Raleigh. The only other grocer to open in subsequent years was on the southside, with a Kroger at the corner of Rock Quarry Road and Martin Luther King Jr. Boulevard. Correct?
Next question, how many other grocery stores have burned in the city's history? Will do some digging. Since the IGA fire, don't believe any have been fully involved. Will check records.
The footage was posted by the Raleigh Fire Museum, as part of an ongoing research project. They're looking for historical video (or film) footage of the Raleigh Fire Department. See their video and movie library on their web site, or check out their YouTube channel.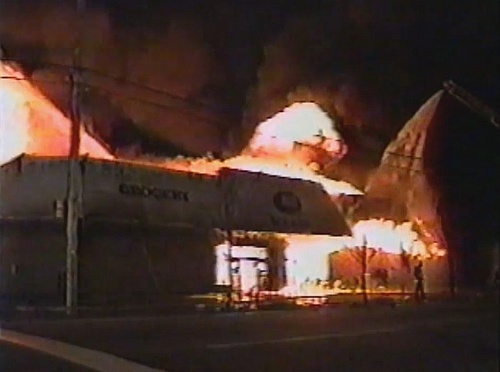 ---
We've come a long way, baby, in aerial apparatus since 1992. Improvements to truck companies started with the hiring of Chief Kuster in 1982 (truck operations) and continued with Chief Pickard's start in 1986 (truck apparatus).

By 1992, the last service ladder truck had been retired two years earlier. (The city operated three service ladder companies in its heyday, from 1973 to 1986.)

Five aerial ladder companies were in service by 1992, the last added as Truck 15 in 1989. There are nine today, the remaining four added in 2004 (Truck 24), 2005 (Truck 26), 2009 (Ladder 4 at Station 4), and 2015 (Ladder 9 at Station 29).
Legeros - 06/29/15 - 08:40