09/25/15 282 W, 1 I - + 7 - 2 Public Meeting on Rebuilding Fire Station 6 - Wednesday, October 7
The City of Raleigh is planning a reconstruction of Fire Station 6 at 2601 Fairview Road. Built in 1949, it's the oldest operating engine house in the city. It's also outdated, outmoded, and in poor physical condition. To present plans for the new station, the fire department will hold a public meeting in the station's apparatus bay on Wednesday, October 7, at 7:00 p.m.
Notes this press release, the meeting will "present the form and function of the current Station Six design and collect community feedback on various elements. Because the station is highly revered by the surrounding community, citizen input will be sought during the project's design phase. A series of community meetings will be held to keep the community informed and offer an opportunity for citizens to provide comment."
The new station will be a multi-story facility, required to accommodate the small-sized lot. (The current facility has 5,408 square-feet on a 0.58 acre lot. That's the sixth smallest in the city. Station 3 has the smallest site with 0.16 acres, followed by Station 1 with 0.37, Station 5 with 0.39, Station 9 with 0.50, and Station 8 with 0.52.)
Expect a doubling of square footage, or more. The new station will include space for both an engine and a ladder company. Other improvements will include gender equitable living and bathroom facilities and environmentally sustainable elements. Read more about this project and other fire station facility developments in a special edition of the Raleigh Fire Department newsletter (PDF), published last year. Learn more about Raleigh fire stations (past 'n' present!) on my history site.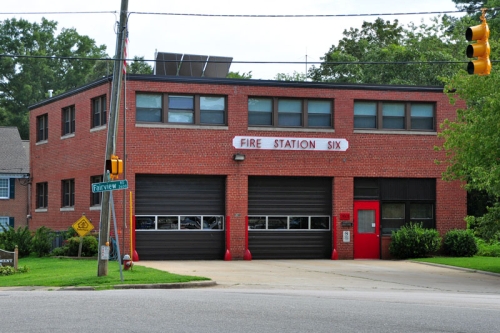 ---