1870

Five fire companies protecting 1.8 square miles and 7,790 residents.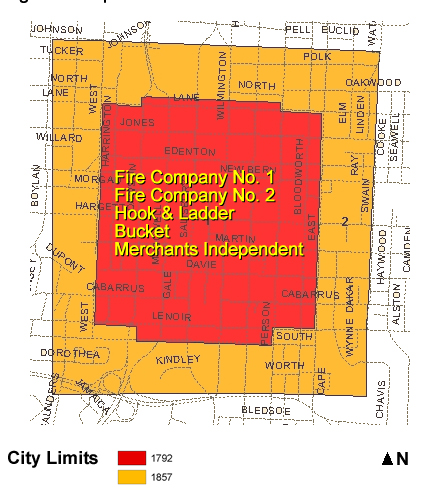 ---
Rescue Steam Fire Engine Company No. 1 formed, renamed from Merchants Independent Fire Company. The charter officers are:
J. C. Brewster, Foreman
W. C. Stronach, Asst. Foreman
Douglas Bell, Treasurer
John C. Gorman, Secretary
Samuel Merrill, Hose Director
A. Mose, Pipeman
C. A. Gaylord, Asst. Pipeman.
The adopted uniform is a "blue navy shirt trimmed with white, and cloth cap, black pants, and white enameled belt, with the name of the company of the cap and belt." The fire company is "an independent one, except at fires, when they will place themselves under the command of the Chief of the City Fire Department." (by January 7, 1870)stan(d)07jan70, sent(s-w)12jan70, sent(d)13jan70
City Commissioners order that the new market house under construction, also called the new City Hall, be called Metropolitan Hall. (January 10, 1870)stan(d)12jan70
Chief Engineer Joseph Backalan, Chief of the Department, reports to the City Commissioners on the strength of the four fire companies and two engines, one Hook and Ladder Company, and one Bucket Company. He notes all equipment is in good order with the exception of some lanterns that they are short of. He reports that they need six lanterns and four lanterns to complete their equipment. He recommends that some provision be made to get water in the city for fire department use. He recommends some forty cisterns be built in the streets, until such time that a water works can supply the city and take the place of cisterns:
Engine Company No. 1, 68 men
Engine Company No. 2, 62 men
Hook & Ladder Company, 40 men.
Bucket Company, 28 men
His report excludes the newly renamed Rescue Steam Fire Engine Company No. 1. Duties of the Bucket Company include supply the engine companies with water at fires. (January 26, 1870)stan(d)29jan80
Metropolitan Hall under construction catches fire. The flames from a chimney flue are discovered before they cause too much damage. (February 8, 1870)sent(d)09feb70
Rescue Steam Fire Engine Company No. 1 is leased by the Wake County Board of Commissions lease a "lot of ground on the Court House Square, bounded as follows, beginning on the alley on the south east corner of the garden fence thence with said alley west thirty feet, thence north eighteen feet, thence east thirty feet, thence south eighteen feet to the beginning, for a term of ten (10)years or for so long thereafter as said company should use the same as an engine house, for one dollar per annum, the said company to build a brick house on the _______." (February 19, 1870)wake boc minutes
Rescue Steam Fire Engine Company receives charter from General Assembly. Charter members include:
J. C. Brewster, Foreman
W. C. Stronach
John C. Gorman
Douglas Bell
Samuel Merrill
A. Mose
William Price
Thomas G. Jenkins
C. D. Heartt.
Note: Some sources cite Rescue Company as renamed Merchant Fire Company. Subsequent references to a Merchants Independent Fire Company contradict this. (February 24, 1870)nc private laws, 1869-70
Fire is reported on Hillsboro Street. Reports the February 26 edition of The North Carolina Standard" a lively alarm of fire yesterday, about 2 o'clock, on Hillsboro' street, but which was extinguished before any damage was done, had the effect of stirring up our people, and brining to a close the deliberations of the House of Representatives. The suddenness of the alarm and the prompt extinguishing of the fire, prevented our fire companies from visiting the scene-- they were en route, however, with that promptness which characterizes their movements." (February 25, 1870)stan26feb70
Machine shop of Betts, Vaughan, and Allen catches fire. After a kiln catches fire, some $150 of lumber is destroyed. (March 25, 1870)sent(d)28mar70
First steam fire engine delivered, built by Gould Engine Company, Newark, NJ. Purchase price is $5,000, raised by " private subscription." Two years later, the Rescue Company is still $3,900 in debt, when City assumes indebtedness. Though the Rescue Company paid first payment on the steamer, the City pays the remaining two. The apparatus, however, remains in control of volunteers. The steam engine is hand-pulled for several years. It throws a vertical stream of water 126 feet at 600 GPM. The Daily Standard on April 19, 1870 describes it as: The engine has an upright tubular boiler, containing 315 inch and a quarter tubes, 16 inches long. Boiler and steam cylinder and covered with German silver. Dome and mouldings [sic] are Princess metal, smokestack German silver, all the iron work is polished; the pumps are cast, and gun metal and highly polished; air vessels and vacuum chambers are copper, burnished and surmounted with a handsome Princess metal signal lamp, side glass blue, with the words "Rescue 1" engraved thereon, back glass white, front light red, with the figure of a fireman descending a ladder with a child in his arms. Two handsome lamps, with side red and white glass, with the word "One" engraved. The front of the Engine is mounted with a Princess metal and German water-tank--brass rope reel--an iron hand tongue--hung on gum and valute [sic] springs--hind wheels 60 inches--front 54 inches--painted maroon striped with gold, blue and white, with a brake and two glass hand lamps. (April 1, 1870)sent(d)02apr70; stan(d)19apr70
The Rescue Company celebrates the delivery of the steamer with a parade. Reports the April 8 edition of The Daily Sentinel "Yesterday afternoon, Rescue Steam Fire Company, No. 1. turned out in full force and uniform, to bring out and test the capacity of their new Engine, just arrived from the shops of the Gould Engine Company, Newark, NJ. The Company is composed of fine, handsome, gentlemanly young men and their engine is a beauty. Preceded by the Raleigh Brass Band, the Company escorted their new Engine through a part of Fayetteville and Hillsboro' streets, and thence to the reservoirs in Capitol Square. Having attached the hose (borrowed from the Merchants' Independent; their own not having arrived)the fire was lighted and in five minutes she was throwing a stream against the belfry of the Baptist Church. The hose not being of caliber and strength sufficient for an engine of such power, she did not succeed in throwing a stream higher than half way up the dome of the Capitol, that is, entirely over the top of the Capitol proper, and a few feet higher. There was a tremendous crowd out to witness the trail, and some fun was had by throwing a stream among some squads of juveniles." (April 7, 1870)sent(d)08apr70
City Commissioners agree to have six cisterns built, two in each ward. (April 8, 1870)stan(w)13apr70
Bledsoe's Mill and Gin on Walnut Creek about a mile south of town burns. The Rescue engine turns back while in route, as do many citizens headed in that direction. The Hook and Ladder Company also responds, but their truck fails while in route. (April 7, 1870)dailys___09apr70, dailys__11apr70
Merchants Independent Fire Company No. 2 reorganized. The officers:
Bryant Jordan, Foreman
Anderson Betts, Asst. Foreman
Andrew Clements, Hose Director
Thos Dancey, Pipeman
George King, Asst. Pipeman
Henry Cole, Engineer
Henry Harris, Secretary
Thos. A. Harris, Treasurer. (April 14, 1870)stan(d)16apr70
Apparatus note: Hose carriage ordered for Rescue Company (April 27, 1870)stan(d)29apr70; stan(d)03may70
Gas works catches fire. The facility is saved through the work of the employees. (May 2, 1870)stan(d)03may70
Metropolitan Hall, also called the Market House and also called City Hall, opens on Fayetteville St. between Martin and Hargett streets . The main building is 209 feet long by 40 feet wide. In the front basement there is a room that can be used as a restaurant or as a grocery. In the rear basement, half of which is for rent and the other half is to be used as a guard room with two cells for prisoners. The first floor is the market house, which extends the full length of the building with the exception of two rooms, one on each side of the Wilmington Street entrance, for fire department use as engine houses. Each room is 30 by 40 feet. There are three rows of stalls, one through the center and one on each side. On the second story, there is the Mayor's office and private offices. Also on the second floor is Metropolitan Hall, which has a stage and dress rooms, and other accommodations. The third floor has four rooms in the front, available for rent. The rear has a fireman's hall. The Mayor officially occupies his offices some weeks later on June 14. The cupola on the front of the building contains the town clock and City Bell / Fire Alarm Bell. The bell was cast in Baltimore. The building was designed by J. P. Prairie, an architect and builder who was assisted in construction by Nat. Jolly and John McGuire. Photos and more information. (May 17, 1870)sent17may70; sent14jun70; stan(d)09aug70; no10mar1938
Mechanics Fire Company No. 2 organized. Foreman is James B. Jordan. They have about fifty members within a month. Their uniform soon consists of orange shirts with blue shield and wristband, black pants, white belt trimmed with red, and white leather cap tipped with yellow. They operate one of the two 1852 hand engines. (by May 18, 1870)sent(d)18may70; sent(d)11jun70; sent(d)28jul70
Rescue Company station opens on the Salisbury Street side of County Courthouse lot. Site is leased from County with provision that lot is returned to County if land is needed. The occupation of the station is celebrated with a parade consisting of the Rescue Company, Mechanics Fire Company No. 2., and the Hook and Ladder Company. Photos and more information. (September 17, 1870)sent(d)17sep70; rt06jul14
Raleigh Gas House burns. Fire Company No. 1 is the only company that reaches the scene before stopping the fire. (October 14, 1870)stan(d)14oct70; sent(d)18oct70
Blacksmith shop behind Alfred Upchurch's coach shop catches fire. The flames are extinguished before any damage is done. The Rescue engine responds and is ready with steam upon arrival. (October 16, 1870)sent(d)18oct70
Fire Company No. 1 renamed Victor Fire Company. Competitions at the 10th annual State Fair include a trial of steam fire engines, and a presentation competition of hand engines. The Rescue Company wins the former, and Fire Company No. 1 wins the latter. The colored fire company is subsequently called the Victor Fire Company the following days' newspaper account. The company, which has around 40 members, wears their new uniforms: black pants, red shirts trimmed with blue, black belts and blue caps trimmed to match the other parts of their uniform. (October 20, 1870)sent(d)14oct70; sent(d)05nov70
Fire companies participate in Memorial Day parade. (November 23, 1870)stan(d)16nov70
Cabin in the East Ward burns. The building and its contents are destroyed. (November 29, 1870)sent(d)29nov70
---
Fire Chief is Joseph D. Backalan. stan(d)29jan80
1871
City Commissioners act to issue and sell $15,000 of bonds for the purpose of construction at least 30 cisterns in the city. The election, to be held after the first Monday in May, is called but cancelled. (April 4, 1871)erm notes
Rescue Fire Company parades in Charlotte on the occasion of the Mecklenburg Declaration Celebration. (May 21, 1871)sent(d)17may71; tele(d)21may71
Frapp's ice house burns. During the firefighting effort, the members of Mechanics Company No. 2 are unsuccessfully at using their hand engine. (June 21, 1871)tele(d)27jul71
Mechanics Fire Company No. 2 disbands. The fire company authorizes Foreman N. B. Broughton to return the engine to the city and ask that the company be discharged from service. His request is printed as a letter in the July 27 daily Telegram. (by July 27, 1871)tele(d)27jul71
Saw mill and cotton gin of Henry Mordecai burn. Located about two miles north of Raleigh, both structures are completely destroyed. Approximately 15 bales of cotton are also burned. Total loss is about $5,000. (September 29, 1871)sent(d)30sep71
Tucker Hall on Fayetteville Street catches fire. (October 12, 1871)sent(d)13oct71
---
Joseph D. Backalan is Chief of Department until defeated in popular election that year by John C. Gorman. By July 1871, Backalan is serving as Street Superintendent. erm notes, tele(d)14jul71
1872
Victor Fire Company receives charter from General Assembly. Incorporators are
James H. Jones, former servant of President Jefferson Davis
H. C. Jones
H. P. Buncombe
John E. Williams
W. B. Mitchell
Charles M. Hunter
Samuel Stewart
Sylvester Dunston. (January 23, 1872)nc private laws, 1871-72
Hook and Ladder Company receives charter from General Assembly. Incorporators are
F. Lampson
J. Q. DeCarteret
S. P. Gill
T. L. Love
S. V. House
W. R. Pepper
Chesley Driver. (February 8, 1872)nc private laws, 1871-72
Apparatus note: Rescue Steam Fire Engine Company No. 1 petitions the City Commissioners for the city to assume the debt of $3,900 now standing against the fire company. They will mortgage the engine and their property to the city. (by March 8, 1872)news(d)08mar72
Tenement house on Halifax Street catches fire. Citizens extinguish the flames before the arrival of the fire companies. (April 4, 1872)sent(d)05apr72
Apparatus note: Hook and Ladder Company petitions the City Commissioners for a new truck. They read a letter received from a fire apparatus builder in New York regarding the price of hook and ladder trucks. They also note that the truck presently owned by the fire company is not worth repairing and is entirely unsuited to their purposes. It is ordered that $100 be appropriated for the purchase of the new apparatus. (April 24, 1872)news(d)26apr72
Rescue Fire Company parades in Charlotte on the occasion of the Mecklenburg Declaration Celebration. (May 20, 1872)sent(d)21may72;news(d)22may72
John C. Gorman reported as resigned as Chief of Department . (May 23, 1872)news(d)23may72
Bucket Company organized. The new bucket company is organized by colored members. (by September 11, 1872)news(d)11sep72
Raleigh Sentinel offices burn after explosion. The adjoining Rescue Company engine house is damaged by the explosion. (October 11, 1872)news(d)11oct72
Two stores on Hillsboro Street burn. (November 5, 1872)news(d)05nov72
Apparatus note: New truck delivered to Hook and Ladder Company. (November 11, 1872)news(d)12nov72
---
Branson's business directory for 1872, page 230 lists fire companies as
Victor No. 1 (colored), James N. Jones Foreman
Rescue No. 1, Wm. C. Stronach, Foreman
Hook & Ladder Co., F. Lampson Foreman
1873
Stable and two houses on Wilmington Street burn. Raleigh firefighters are aided by soldiers from Camp Russell. (January 3, 1873)sent(d)04jan73
Raleigh Bucket Company receives charter from General Assembly. Incorporators are
A. L. Gorham [sic]
J. W. Winslow
J. W. Butler
Ephraim Johnston
G. E. Lane
and others. (February 28, 1873)nc private laws 1872-73
Henry T. Clawson elected Chief of Department . (March 20, 1873)sent(d)21mar73
Hook & Ladder house and apparatus moved from Metropolitan Hall. (circa May 27, 1873)sent(d)27mar73
Robert Seawell's residence on New Bern Avenue burns. The afternoon fire is attended by the entire fire department, but the lack of water contributes to the near destruction of the structure. One Rescue Company member is injured by the breaking of a chair. The furniture of the house is saved, with soldiers aiding firefighters in that effort. (March 29, 1873)sent(d)30mar73
Rescue and Hook and Ladder companies participate in Memorial Day parade. (May 10, 1873)sent(d)10may73
City Commissioners order that the City Bell, also the Fire Alarm bell, be rung by the janitor for the convenience of 11 hour laborers, at the 6:30 a.m., 12 midnight, and 6:30 p.m. until the first of August, at which time the 10 hour system commences. (by July 1, 1873)sent(d)01jul73
Two houses on E. Hargett street burn. The 10:30 p.m. fire is attended by both engine companies. (June 16, 1873)sent(d)17jun73
Officer's quarters at Camp Russell destroyed by fire. The 10:00 p.m. fire alarm is answered by all companies except the Rescue Company, which halts after they learn that there is not a sufficient water supply for their use. During the fire, a disturbance occurs causing the Victor Company to leave the scene and return to their station. Members of the Bucket Company subsequently leave the scene. The fire is fought by the Hook and Ladder Company and members of the Rescue Company. (September 13, 1873)sent(d)14sep73
M. Rosenthal's store on Fayetteville Street burns. The 12:30 p.m. fire on the roof is extinguished without the aid of the fire department, that responds. (October 6, 1873)sent(d)07oct73
Moses A. Bledsoe's cotton gin in southern suburbs destroyed by fire. The fire department responds, but is unable to save anything. (November 15, 1873)sent(d)16nov73
1874
Tenement house on the old Fairgrounds outside of the city burns. The fire is contained by citizens and no alarm is sounded. (March 8 1874)news10mar74
House near the old Fairgrounds burns. The Victor Company responds but is hampered by very limited water. Too small houses in the vicinity catch fire on their roofs, but the fires are extinguished with buckets. (March 12, 1874)news13mar74
Henry T. Clawson elected Chief of Department. (March 17, 1874)news18mar74
Dry goods and printing business at the corner of Fayetteville and Hargett street burns. The first arriving companies at the 9:30 p.m. fire are the hook and ladder and bucket companies. The Victor company soon has its hand engine working, and the hook and ladder members ascended the three story structure and were ripping away the ceiling to allow the streams better access. The Rescue company also arrived quickly, but the rubber hose kept bursting even as Engineer Joe Green tried only 40 pounds of pressure. Coats, handkerchiefs, and other things were used to patch the hose. The fire was extinguished before too much fire damaged occurred. The fire was intentionally set, and was the third time in the last 18 months that the building had been set ablaze. During the fire, a conflict of authority between the Mayor and the Chief of the Department, results in the arrest of the latter. The case receives an immediate temporary hearing, but is postponed until the next morning. The next day's hearing is postponed another week. (July 30, 1874)sent(d)31jul74; sent(d)01aug74
Hook and Ladder Company visits fire companies in Petersburg, Virginia. (September 7, 1874)sent(d)09sep74
W. H. Lyon's store on the corner of Blount and Martin streets suffers fire. An exploding kerosene lamp starts the blaze that is extinguished by a clerk. The fire companies respond, but are not needed. (September 29, 1874)sent(d)30sep74
City Commissioners authorize construction of two cisterns of 22,000 gallon capacity each. (November 30, 1874)sent(d)30nov74
---
Chataigne's Raleigh City Directory 1875-76, page 10, lists fire department as follows. The information reflects the 1874 membership of the department:
Chief Marshall - H. T. Clawson
Asst. Chief Marshall - R. T. Booker
No. 1 (c)- James N. Jones, Capt.
No. 2 (c)- J. W. Butler, Foreman
Rescue Steam Co. - R. H. Bradley, Capt.
1875
City Hotel catches fire. The 11:00 a.m. blaze, started on the roof by a spark, is promptly extinguished by the fire companies. (February 6, 1875)news07feb75
Victor and Bucket companies participate in funeral process of Bucket Company member Charles Brown. (March 7, 1875)news10mar75
J. J. Litchford's residence on New Bern Avenue burns . The 8:00 a.m. fire, started on the roof by stray sparks, is extinguished before consuming the entire house. (April 25, 1875)sent(d)27apr75
Rescue and Hook and Ladder companies participate in postponed Memorial Day parade. (May 12, 1875)news06may75; news11may75
Rescue Fire Company travels to Charlotte on the occasion of the Mecklenburg Declaration Celebration. (May 21, 1871)sent(d)22may75
Fire alarm system divides city into four fire divisions, with the City Bell tapping the corresponding number upon alarm. (by May 28, 1875)sent(d)28may75
Apparatus note: Rumsey and Company hand engine purchased for Victor Company. Cost is about $1,7000. Company is located in Seneca Falls, New York. (by June 13, 1875)news13jun75
Joseph H. Greene elected Chief of the Department. His title is Chief Engineer. (October 8, 1875)sent(d)09oct75
Bakery on Fayetteville Street burns. The 10:00 a.m. fire is fought by the four companies, with the Rescue steamer drawing water from two blocks away from a cistern at Davie and Fayetteville Streets. (October 31, 1875)sent(d)02nov75
Apparatus note: Hose reel purchase authorized for Rescue Company, along with Bucket Company truck and additional hose and buckets for companies. (December 9, 1875)sent(d)10dec75
1876
Cottage Hotel outhouses burn. The buildings include a kitchen where a mentally challenged woman lived. The 25 year-old daughter of the hotel proprietor perishes in the morning fire. (March 5, 1876)news06mar76
Apparatus note: Rumsey and Company sues the city for payment of Victor Hand Engine. Officials order debt paid. (March 9, 1876)news10mar76
Commercial building on Fayetteville Street burns. The structure is occupied by a druggist, a clothier, and a job office. The fire is controlled about 2:00 a.m. (April 4, 1876)news04apr75
Sealed bids opened for construction of four cisterns. (April 22, 1876)sent(d)19apr76
Rescue and Hook and Ladder companies participate in Memorial Day parade. (May 10, 1876)news11may76
Apparatus note: Bucket Company parade new hand-pulled truck. (May 19, 1876)sent(d)20may76
Stable at corner of Edenton and Harrington streets burns. The fire is discovered about 2:00 a.m. and has made such headway that only one of the mules is rescued. Two other mules and some wagon parts and provisions are destroyed. Citizens try to extinguish the fire despite the presence of very little water. The Bucket Company is only group of firefighters to respond, and they arrive quickly. It is believed if the hand or steam engine had been present, they would have been of no use due to the lack of water. Damage is estimated at $500 and $600. (August 22, 1876)sent(d)23aug76
---
City charter changed with Raleigh now governed by board of Aldermen. no26apr42
1877
Hothouse and stable near Confederate Cemetery destroyed by fire. The 9:30 p.m. fire is caused by a furnace used for heating the plants in the hothouse. (January 4, 1877)obs05jan77
A. W. Fraps' ice house in the rear of saloon between Fayetteville and Salisbury Streets burn. The house is destroyed, but the fire is prevented from spreading by the fire companies. (March 3, 1877)obs04mar77
Alderman Alfred Upchurch's reisdence at corner of E. Hargett and Bloodworth street burns. (March 17, 1877)obs17mar77
Telegraph office opens in Raleigh. Bells are planned for each engine and hose house, to notify the fire companies of alarm locations. Unknown if plans are implemented. (by April 6, 1877)obs06apr77
Rescue and Hook and Ladder companies participate in Memorial Day parade. (May 10, 1877)obs10may77
Unoccupied residence on Salisbury Street destroyed by fire. (July 6, 1877)obs07jul77
Mill and factory just west of the North Carolina Railroad depot burns. The Railroad warehouse and depot are saved. (July 24, 1877)obs25jul77
Horton residence in second precinct catches fire. The attached kitchen is destroyed. (September 5, 1877)obs06sep77
Street Commissioner under direction of Chief of Fire Department instructed to build three more cisterns. Two dozen caps and belts also ordered purchased for the Victor Company. (September 18?, 1877)obs18sep77
Victor Company travels to Fayetteville. (September 21, 1877)obs22sep77
Apparatus note: Two hose reels reported purchased at a cost of $200 each. (November 2, 1877)obs03nov77
Home on Halifax Street burns. Employees of the nearby Raleigh and Gaston Railroad shops arrive first and are subsequently assisted by firefighters. (November 2, 1877)obs03nov77
Cottage on Salisbury Street burns. The structure is destroyed despite the best efforts of firefighters. (November 5, 1877)obs05nov77
Homes and stables on Wilmington Street destroyed by fire. Flames spread to a nearby residence, and then to a second residence. (December 9, 1877)obs11dec77
Home on Salisbury Street destroyed by fire. Structure is the fifth and last owned by Joel D. Whitaker to have been burned. (December 19, 1877)obs19dec77
Several bales of cotton at Central Depot burn. (December 19, 1877)obs20dec77
---
Joseph H. Green is Chief of Department . Branson, 77-78, p291
1878
Phoenix Chemical Fire Company formed. The first foreman is John Ferrell. Their uniforms consist of red shirts, blue navy cap, red belt, and black pants. (by January 24, 1878)obs24jan78; obs26jan78
Apparatus note: Champion hand-drawn single-cylinder chemical engine delivered to Phoenix Company. The apparatus is pulled by four or five men. (after January 26, 1878)obs26feb78
Grand Firemen's Test conducted on the city lot on Davie Street. With around 2,000 people present to watch, a pair of crudely constructed buildings are set alight. The Rescue, Victor, and new Phoenix engines are all dispatched to the scene, each the same distance away. The bell is tapped at 8:15 p.m. The Phoenix engine arrives at 8:16 p.m. and starts a stream at 8:16 p.m. The Victor engine arrives at 8:17 p.m. and starts a stream at 8:18 p.m. The Rescue engine arrives at 8:18 p.m. and starts a stream at 8:20 a.m. (February 11, 1878)obs12feb78
House near Fayetteville and Davie Street burns. One person is killed. (February 25, 1878)obs25feb78
Rescue engine house to have doors configured in the manner as those of the Chemical engine house , where opening the door will ignite the gas (lamp), and closing the door will extinguish it. The newspaper reporting this item notes that the engine house does not include accommodations so the engineer can sleep at the building, but it should. (March 14, 1878)obs14mar78
Fire Commissioner member Dr. Hogg reports on public cisterns and fire engines:
| | | |
| --- | --- | --- |
| # | Location | Capacity |
| 1 | NE corner of Capitol Building | 5,670 |
| 2 | SW corner of Capitol Building | 5,670 |
| 3 | opposite shoe store on Fayetteville Street | 3,960 |
| 4 | opposite store on Fayetteville Street | 3,960 |
| 5 | opposite store on Fayetteville Street | 3,9650 |
| 6 | Hargett Street near Wilmington | 5,400 |
| 7 | opposite residence on Fayetteville Street | 35,000 |
| 8 | near Cottage Hotel | 27,787 |
| 9 | Deaf and Dumb Asylum | 4,500 |
The water depth and actual amount is computed, along with the estimated flow of both the Rescue (300 GPM max)and Victor (250 GPM max)engines. He also notes the weights of the fire engines:
The Rescue engine weighs 6,000 pounds, the hose carriage 2,200 pounds, and other equipment 760 pounds.
The Victor engine weighs about 3,400 pounds, the hose carriage 1,600 pounds.
The Phoenix engine weighs 2,520 when fully loaded. (March 1878)obs
Fire companies participate in Memorial Day parade. (May 10, 1878)obs09may78
Rescue and Victor Companies demonstrate at State Fair. (October 18, 1878)obs19oct78
Joseph H. Green elected Chief of Department. (by June 8, 1878)obs08jun78
Jy Jackson's store on Hargett Street burns. The 1:00 a.m. fire is fought by the Rescue steamer, which exhausts three cisterns in a short time. If the Friday night fire had been bad enough, speculates the newspaper report, the whole square between Hargett Street and Metropolitan Hall would have been swept away. (December 20, 1878)obs21dec78; obs22dec78
Bradley Building on Fayetteville Street opposite the Post Office destroyed by fire. (December 31, 1878)obs01jan79
---
Branson 1877-78 directory, page 305, lists fire company membership as follows:

Victor No. 1 (colored fire co.)
Hook and Ladder Co.
Rescue Fire Co. No. 1
Bucket Company
James H. Jones, Foreman

Nelson Taylor, Asst. Foreman

Wm. Hicks, Secretary

Daniel Jones, Treasurer

Henry Harrison and Alfred Haywood, Pipemen

Thos. Burgess, Hose Director

H. C. Jones, Chaplain

Edward Jones, Sergeant-at-Arms

Sylvester Dunston, Chairman of Finance Committee
Thomas L. Love, Foreman

Thad. Bosher, Asst. Foreman

James M. Towles, Sr, Secretary

______, Treasurer
Samuel Merrill, Foreman

W. J. Weir, Asst. Foreman

T. R. Fentress, Jr., Secretary

Thomas W. Blake, Fin. Secretary and Treasurer

Frank Brannon, Hose Director

J. M. Carver, Asst. Hose Director

William Price, Engineer

W. H. Adams and W. Z. Blake, Asst. Engineers
Harris Hogans, Foreman

Russell Spencer, Asst. Foreman

J. W. Winslow, Secretary

Ephraim Johnson, Treas.

George Cole, Chaplain

Frank Phillips, Sergeant-at-Arms
1879
Buildings on Hillsboro Street near the bridge burn. The building and contents of Lews & Jones store, where the fire starts, are destroyed. The water supply was limited and the unusually cold weather caused it to freeze in the hose. One person, William Lewis, is seriously injured. He is sleeping in the store and barely escapes. The adjoining store of Mr. Jolley is also burned, and two adjoining residences are seriously damaged. The 3:00 a.m. fire is under control at 5:00 a.m. (January 7, 1879)obs07jan89, obs08jan89
Contracts awarded for building five fire cisterns to contain 30,000 gallons each. (by January 23, 1879)obs23jan79
Two houses destroyed by fire. A third house is heavily damage. (May 12, 1879)obs12may79; obs13may79
Phoenix Chemical Engine Company receives and distributes uniforms consisting of "a gray brown shirt trimmed with red, bearing the word 'Phoenix' across the breast; a cap of dark blue, navy shape, and a white belt piped with red." The company has thirty uniformed members and "two boys." (June 19, 1879)no20jun79
Colored firefighters from Charlotte, Warrenton, and Goldsboro visit Raleigh. They are hosted by the Victor and Bucket companies at Metropolitan Hall. (July 16, 1879)no16jul79
Apparatus note: Rescue Company receives a pair horses. Until this time, private horses would be pressed into service for parades or some fires. (By October 4, 1879)obs13may79; obs(d)06sep79; obs22sep79; obs04oct79
Fire alarm system now splits city in five divisions. The fifth division, indicated by a continuous ringing of the city bell, indicates one of the blocks bordering Fayetteville Street. (by November r, 1879)obs04nov79
Rescue Company engine house expanded. The 28 x 25- foot, single-story brick extension in the rear of the building houses adds stalls for two horses, a sleeping room for four firefighters, a storage room, and other space. (After November 18, 1879)obs14aug79, hale's weekly, 18nov78
---
Joseph H. Green is Chief of Department . [Unconfirmed]



Abbreviations
| | | |
| --- | --- | --- |
| [AA] | | Aircraft accident |
| [AI] | | Apparatus incident |
| [EF] | | Early fire |
| [HM] | | Haz-mat incident |
| [MA] | | Mutual Aid |
| [MF] | | Major fire |
| [RA | | Railway accident |
| [TF] | | Tanker fire |
| [TR] | | Technical rescue |
| [UD] | | USAR deployment |
| [UF] | | Unusual fire |
| [UI] | | Unusual incident |
| [WE] | | Weather event |
Sources
| | | |
| --- | --- | --- |
| ar | | City of Raleigh Annual Report |
| bd | | City of Raleigh budget documents |
| cvh | | Cameron Village: A History 1949-1999, Nan Hutchins, Sprit Press, 2001 |
| cad | | City of Raleigh Auditor's Office |
| ccm / cm | | City Council Minutes / City Minutes |
| ccor | | 1792-1892, The Centennial Celebration of Raleigh, NC, Kemp D. Battle, Edwards and Broughton, 1893 |
| cer | | Chief Engineer's Report |
| dah | | North Carolina Department of Archives and History |
| dahni | | North Carolina Department of Archives and History News and Observer index |
| fp | | City of Raleigh Fire Protection Study |
| hr | | Historical Raleigh with Sketches of Wake County and its Important Towns, Moss N. Amis, 1912 |
| oh | | Oral History |
| mjlr | | Mike Legeros records. |
| mp | | Morning Post |
| nc | | North Carolinian |
| no | | News and Observer |
| noi | | News and Observer Index |
| pb | | Peter Brock |
| pph | | Pullen Park History |
| rla | | Raleigh Fire Department Ladies Auxiliary scrapbooks |
| rpu | | Raleigh Fire Department Photo Unit records |
| rr | | Raleigh Register |
| rt | | Raleigh Times |
| ruh | | Raleigh: An Unorthodox History |
| yb84 | | Raleigh Fire Department 1984, Raleigh Fire Department, Taylor Publishing, 1984 |
| yb02+ | | Raleigh Fire and Rescue: 1984-2002, Raleigh Fire Department, Taylor Publishing, 2002, plus additional historical information also compiled by the Raleigh Fire Department around 2002. |
| wch | | Wake: Capital County of North Carolina - Volume 1, Prehistory Through Centennial, Elizabeth Reid Murray, Capital County Publishing, 1983 |
---
Copyright 2018 by Michael J. Legeros